All the buzz in my parenting circles has been about the newest addition to the internet space, Clean Label Project. If you haven't heard the buzz yet then you NEED to. They are taking the internet by storm and revealing what's REALLY lurking in your baby's formula and baby food. I was shocked and disappointed to see some products that I feed my own children on the list of contaminated products laced with chemicals, lead and worse. I'll tell you what you need to know and how to make sure you're feeding your baby the best food on the grocery store shelf.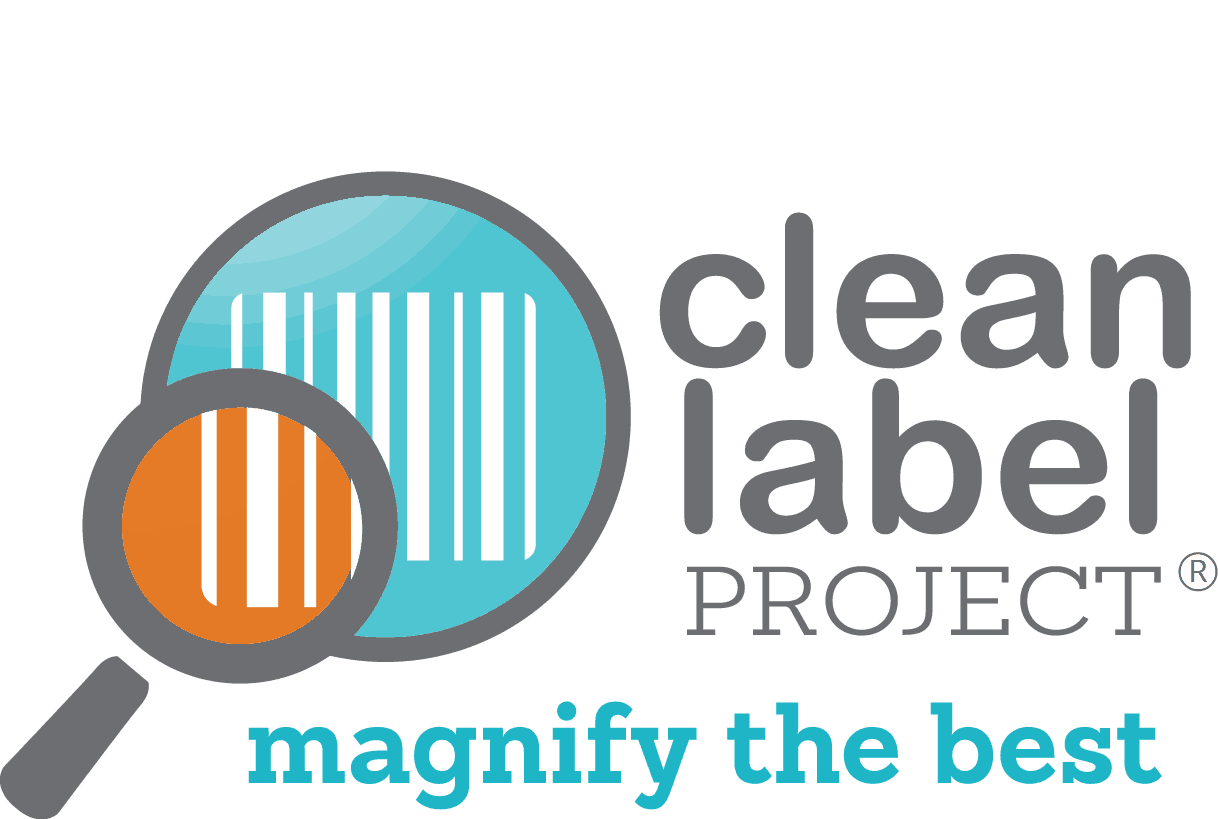 What Is The Clean Label Project?
The Clean Label Project is a non-profit organization that seeks transparency in consumer product labeling. In short, they believe you have a right to know what's in your food. As do I!
The Clean Label Project Baby Food Study is the most comprehensive scientific investigation ever completed on the foods that impact our nation's most vulnerable population—young children—at the most critical stage of their development. The study goes well beyond evaluating the ingredients posted on nutritional facts panels and ingredient lists to examine the impact of 130+ industrial and environmental contaminants on nearly 500 infant formulas and baby food products. In all, the organization benchmarked more than 100,000 data points and found that over 25 percent of all products tested exceeded at least one state or federal guideline for contaminants. Infant formulas and baby food samples for the study were purchased in grocery stores across America within the past six months.
Baby Food Study Results: What You Need To Know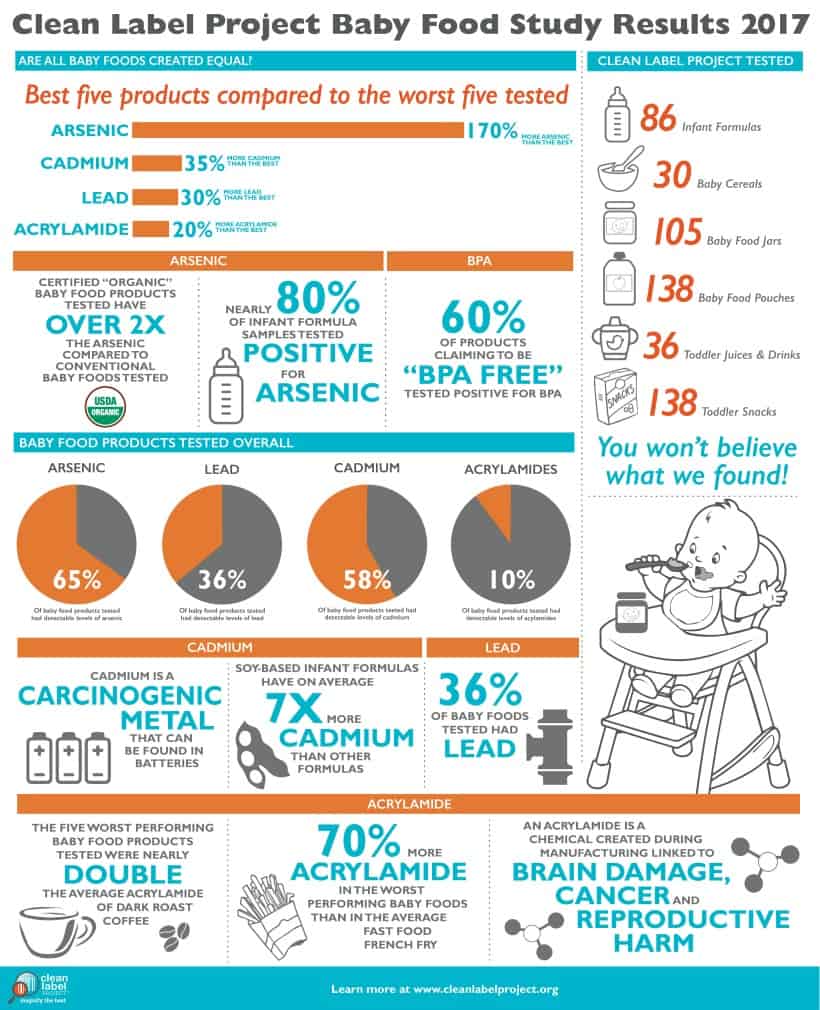 Let's get down to the nitty-gritty of what you need to know. I know many parents just don't have time to sift through all the information so I want to hand you everything you need in a concise way so you can make the best decisions for your family.
Study highlights:
Over 50 percent of infant formulas contained some arsenic

Soy-based infant formula contained on average seven times more cadmium than other formulas

Over 25 percent of baby food samples had detectable levels of lead

Over 50 percent of the products labeled "BPA free" tested positive for BPA

Some products labeled "certified organic" actually had higher amounts of mercury and lead than conventional baby foods, although the organic baby foods had fewer pesticides

Rice-based "puff" snacks had on average over 5 times as much arsenic as other baby snacks

What Do We Do With This Information As Parents?
Now that we know this information, what do we do with it as parents? The Clean Label Project has made it really easy for even the busiest of parents to use this information to quickly and easily identify the best choice on the shelf for your baby. Simply visit CleanLabelProject.org and type in the baby food product you use and hit search. It will bring up an easy to read 5 star rating system for each of the categories they tested for, along with a handy explanation of what that means.
For example, I went and typed in "Beech-Nut". Their baby food is one of my favorite brands and I was eager to know how they scored. Overall they did fairly well, but there were some foods I would avoid buying in the future thanks to their low star rating. On the contrary, I typed in "Similac" in the seach box and found that their conventional formula scored 5 out of 5 stars, while the organic and non-gmo varieties scored just 3 and 1 stars, respectively. I was shocked to say the least. So how do you know what to buy for your baby? Simply, search the site for the products you use and find the best brand on the shelf. Go for one with 5 out of 5 stars. Note that each food product varies so you can't just pick one brand. You need to look at individual products, however, there is also a report card rating each brand, based on their products as a whole.
"All parents are faced with the same dilemma when shopping – what food is best for my baby?" said Jackie Bowen, MPH, MS, executive director of the Clean Label Project, a non-profit organization dedicated to truth and transparency in consumer products. "They are flooded with marketing terms like 'natural,' 'organic' and 'pure,' all intended to sell comfort and security to parents. The products that we tested are literally the exact same products that are currently in refrigerators and pantries across America."
"We're not telling parents to stop feeding their children the products on supermarket shelves," concluded Clean Label Project's Bowen. "We're providing a resource and encouraging parents to use our research to look beyond the labels, because the difference from one product to the next could make a real impact on your child's long-term health."
I am thrilled to have this vast knowledge base at my fingertips. We are blessed to have this data available to us. Don't be scared by it, but instead be empowered with your right to choose the cleanest label and the purest food for your family. I can't wait to see what the future holds for the Clean Label Project and I'll definitely be keeping my eye on this organization's ability to give the power to know what is in our food, back to the consumer.
Pin The Clean Label Project – What You Need To Know: