My kids are 1 year old, 3 years old and 4 years old. Kids at this age are finicky and go through periods of eating a lot and then being picky about everything. To try and stave off the picky periods I try and involve my kids in the cooking process as much as I can. I find that when they are involved in the cooking process they are much more likely to eat the finished product. For lunch yesterday I decided to include Aiden, my 3 year old in cooking our lunch. He can be my most picky eater so I was eager to encourage his participation. I had gone to the Birds Eye Kids Website where kids have helped create recipes aimed at making veggies enticing for kids to help prepare and eat. I picked out the Southwest Chicken Quesadilla Recipe thinking it would appeal to my kids. When cut it's shaped like pizza, has their favorite chicken inside and tortillas are familiar to them.
I set out all of the ingredients we would use.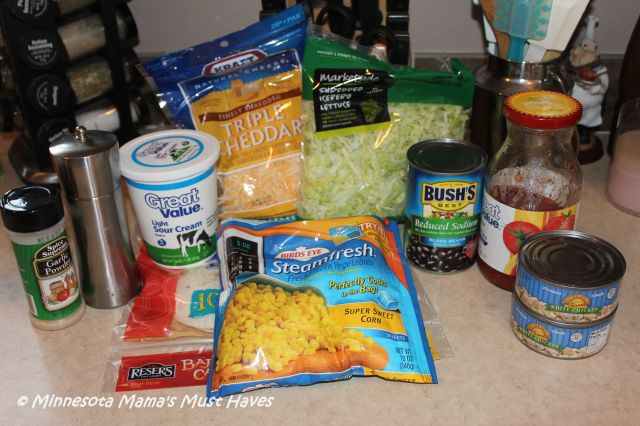 Birds Eye Steamfresh Corn is one of the veggies included. It steams in the bag so no difficult prep involved!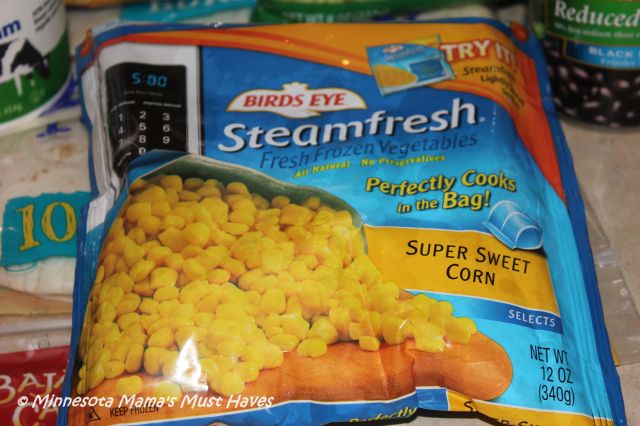 I let Aiden rinse the beans under cold water in a colander while I steamed the corn in the microwave. I then sprayed a cooking sheet and followed the recipe to mix up the corn and beans mixture along with the chicken mixture. I put them in two separate bowls and let Aiden mix each one. He felt so important with his cooking job!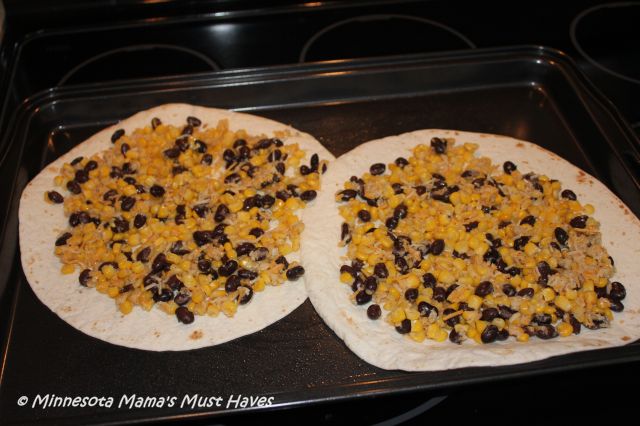 Then I finished assembling them and popped them in the oven. When they get nice and crisp and melty they are done!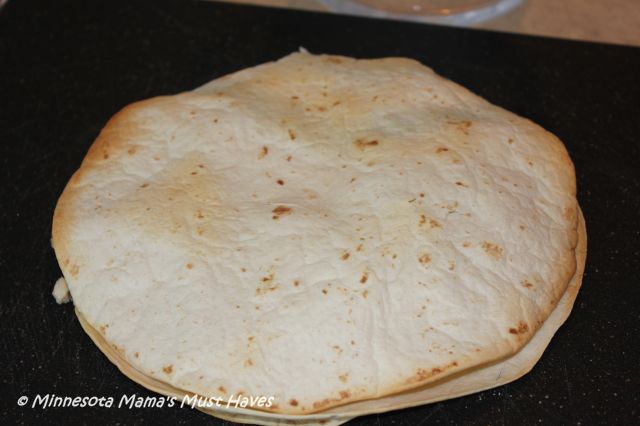 We then cut them with a pizza cutter and I think it appealed to Aiden that it was shaped like a pizza (one of his favorite foods).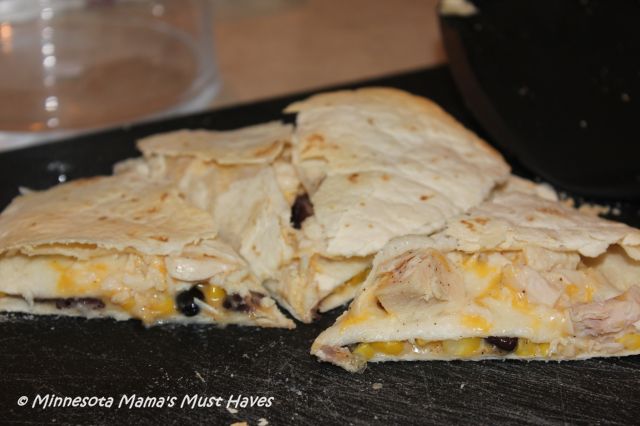 Aiden ate his with salsa on the side. The rest of us topped ours with fresh lettuce, tomatoes, sour cream and then devoured them. They were REALLY good! I loved that they appealed to both the kids and the adults. We all really loved them and it served as a great way to get Aiden to eat something healthy. He enjoyed it in part because he helped make it. Getting your kids involved in the kitchen is a great way to help picky eaters become more adventurous.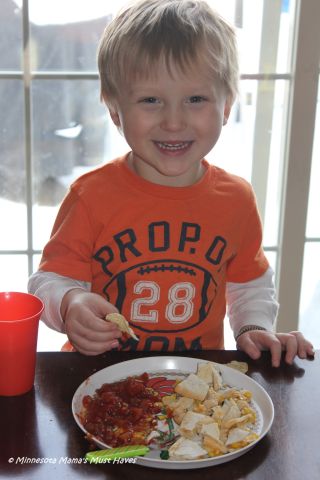 You can check out the
Birds Eye
Kids website for all of their kid friendly, crowd pleasing recipes!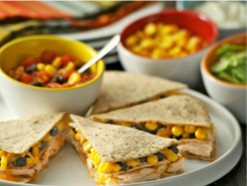 Southwest Chicken Quesadilla Stackers Recipe!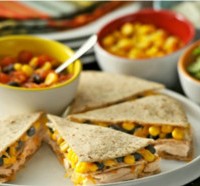 Chicken Quesadilla Stackers
Great crowd pleasing recipe that appeals to the kids too!
Ingredients
1

bag

12 oz. Steamfresh® Super Sweet Corn, cooked according to package directions

3/4

cup

canned black beans

drained and rinsed

1 1/2

cups

shredded Mexican-style cheese blend

4

tablespoons

finely chopped red onion

3/4

teaspoon

garlic powder

3/4

teaspoon

freshly ground black pepper

1

cup

fully cooked shredded chicken

rotisserie or canned

6

8-inch burrito-size whole wheat flour tortillas

Mild salsa

Light sour cream

Diced tomatoes

Shredded lettuce
Instructions
Preheat oven to 425°F. Coat a large baking pan with nonstick cooking spray.

Stir 1 cup corn, black beans, 1 cup cheese, 2 tablespoons onion, 1/2 teaspoon garlic powder and 1/2 teaspoon black pepper together in a large bowl.

In another bowl, toss chicken, remaining 1/2 cup cheese, remaining 2 tablespoons onion, remaining 1/4 teaspoon garlic powder and remaining 1/4 teaspoon black pepper together.

Place 2 tortillas on the baking pan. Spread each with the corn mixture, leaving a 1/2-inch border around the edges. Place another tortilla on top of each stack and spread each with the chicken mixture. Place remaining tortillas on top and coat with cooking spray.

Bake until golden and crispy on top, about 13 to 16 minutes, rotating the pan halfway through baking.

Allow quesadillas to cool 5 minutes before cutting each into 6 wedges. Top quesadillas with remaining corn and black beans, salsa, sour cream, diced tomatoes and shredded lettuce, if desired.
I participated in a campaign on behalf of Mom Central Consulting for Birds Eye. I received product coupons to facilitate my review as well as a promotional item as a thank-you for participating.