Thank you Get Ready Now for sponsoring this post. Be Your Own Hero … Responsive | Resourceful | Resilient
Do you love camping but aren't sure what to think about when camping with dogs? We've been taking our two dogs along on all of our camping trips (for the past 2 years) and I've got some must-know advice for camping with dogs and making sure you are prepared! Scroll down for all my must-know tips!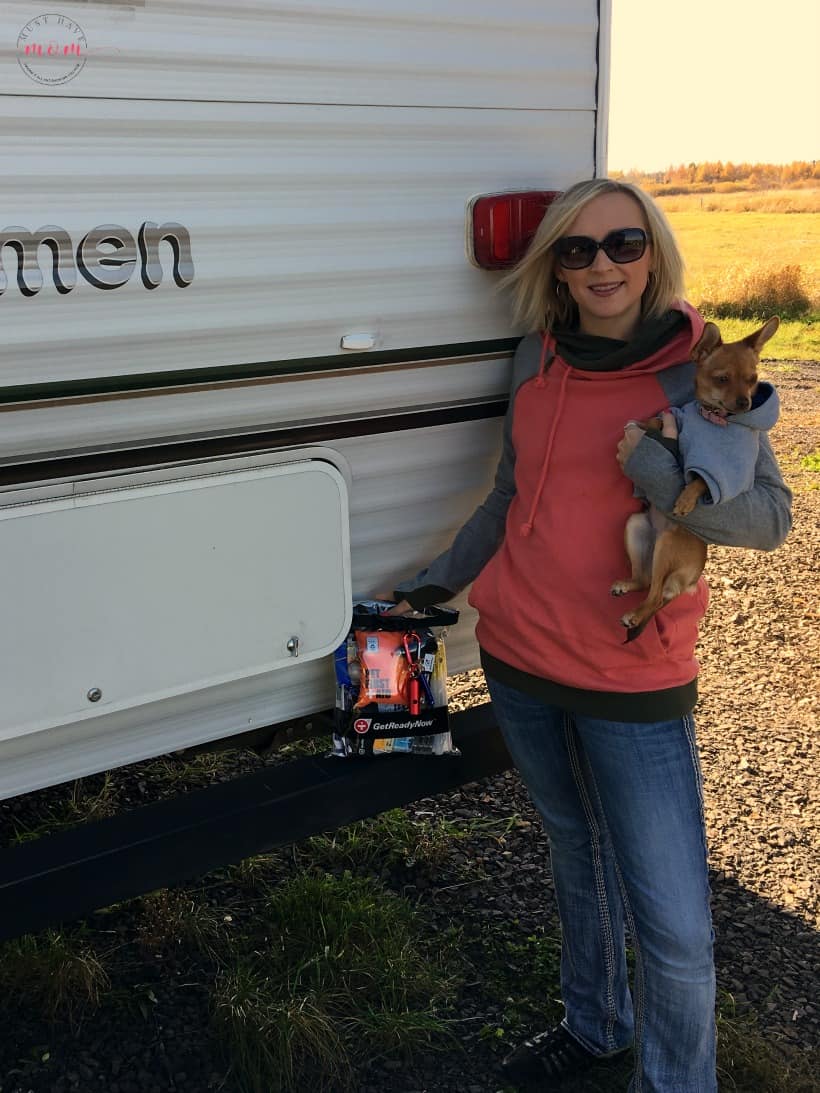 What To Pack When Camping With Dogs
Packing up the camper can seem like a daunting task which is why I created some really helpful free camping lists for you to take advantage of! Grab my free printable camping food list and menu plan as well as my free RV checklist printable packing list. One thing I haven't addressed yet is what to pack for your dog when you take them camping with you! I'm here to round out my packing lists with this helpful list of what to pack for your pet.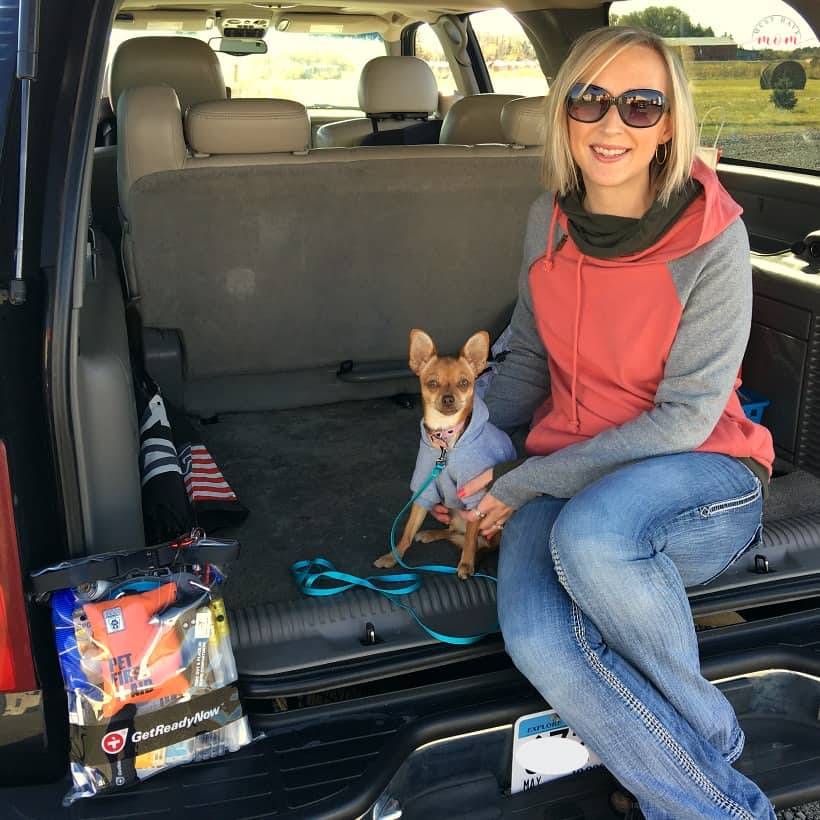 My little dog Maddie and our older cocker spaniel mix, Max, love to go camping with us. There are some items we have found to be really useful when we go camping and I hope they help you as much as they've helped us during our adventures! Here are some items we ALWAYS take with us when we go camping.
Camping With Dogs Packing List:
Get Ready Now's Pups & Peeps Road Combo Pack – This all-inclusive emergency pack has everything needed to keep people and pups safe when emergencies happen on the road.
Collapsible silicone food/water bowls – These are great for minimal storage space and taking on hikes/adventures with you. There is also one included in the Pups & Peeps Road Combo Pack!
6 foot or less dog leash – Most campgrounds will require that your dog always remain on a 6 foot or less dog leash. (The Pups & Peeps kit also includes a large dog leash!)
Pet waste bags – You MUST clean up after your pet so be sure to bring your pet waste bags with you on walks around the campground or area. Sometimes they provide them but don't count on it!
Dog bed/Crate – Don't forget to bring a comfy place your dog loves to sleep in/on. Our older dog sleeps in a pet bed on the floor and we bring a collapsible dog crate for our smaller dog who is crate trained.
Dog Food – Of course you better not forget this!
Dog treats – These are especially useful to us when our little dog sneaks out the door and needs to be coaxed back inside the camper!
Dog collar with ID tags – Should your dog escape from you, you want to be sure they will find their way back to you should someone else find them before you do.
Bark collars – If your dog loves to bark (especially around strangers) then you may want to bring a bark collar so you don't bother your fellow campers. We have found the citronella collars and the vibration collars worked very well for our dogs and don't inflict pain.
Dog bone/toys – Bring along something to keep your pet occupied and entertained during down time.
Dog sweater – If you are doing fall camping (like we do!) and have a small dog then be sure to bring a sweater for the dog so they don't get chilled outdoors when it starts cooling off.
Tick treatment – In the summer we use a natural tick spray on our dogs (during tick season) to repel ticks. Be sure to also check them for ticks each night.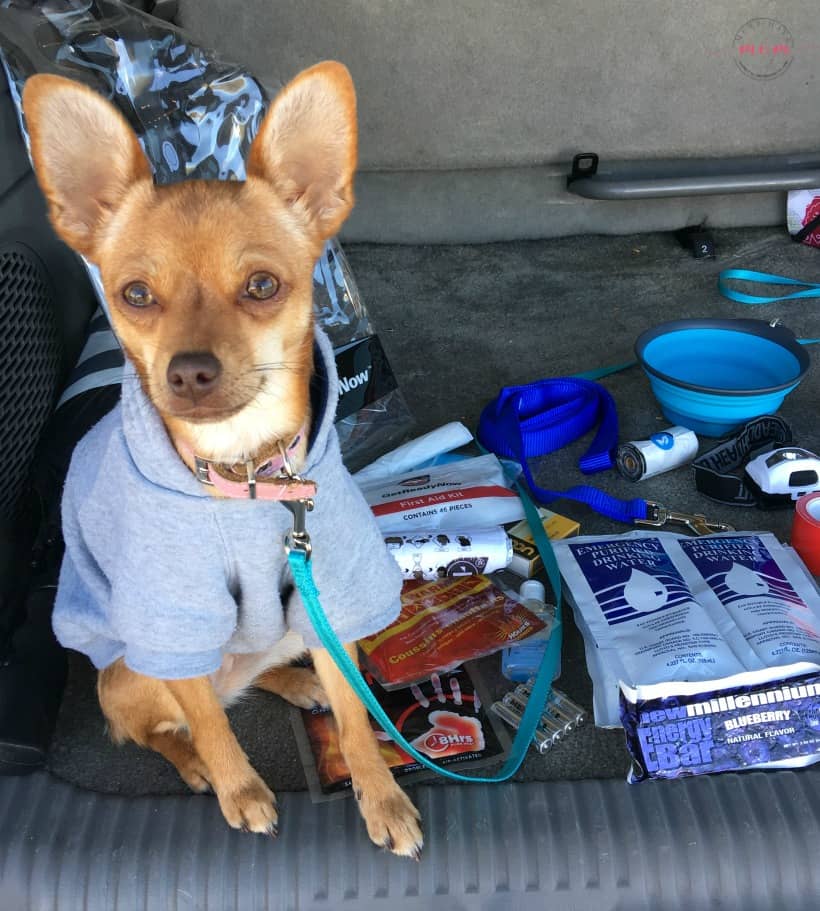 Traveling With Dogs
Traveling with pets is inevitable if you love to camp around and explore. We always visit new campgrounds and a several hour drive is usually part of the adventure. We make sure that we are prepared for the trip there as well as the camping trip itself. Don't overlook vehicle safety and ensuring you have emergency supplies in case you break down or an emergency on the road happens. Be sure you are prepared for you AND your pet! The easiest way to ensure you are prepared is to get a Pups & Peeps Road Combo Pack which contains everything needed for you and your pet should an emergency arise. Curious about what's inside? I'll show you!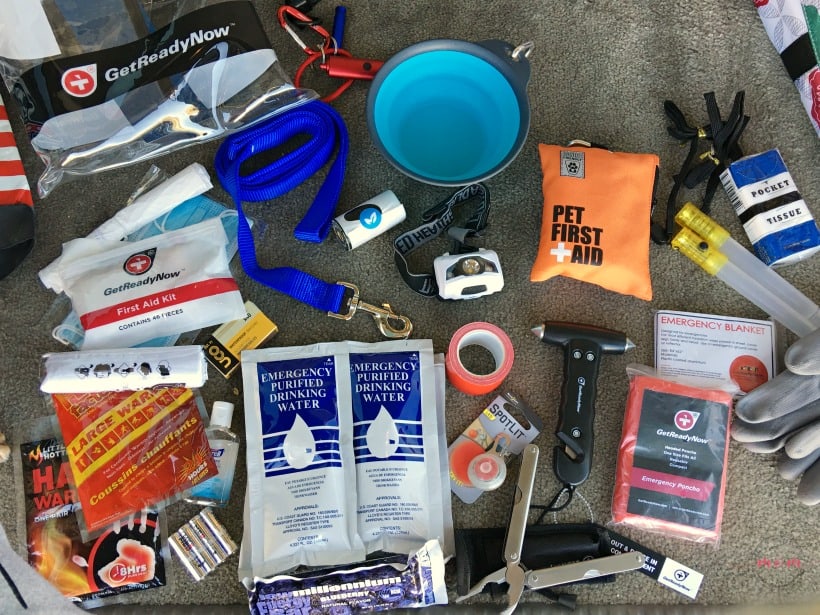 Inside the Get Ready Now's Pups & Peeps Road Combo Pack you'll find:
PUP GEAR
6′ Leash
Collapsible Water Bowl
LED Red SpotLit Collar Light
Pet First Aid Kit
Poop Bags
Treat Pouch
LIGHT
4-Mode LED Headlamp w/Batteries
2 LED Glow Sticks
1 Wristband w/LED Light & Whistle
FOOD & WATER
1 Millennium Food Bars
4 Water Pouches
SANITATION
Waste Disposal Bags
1 Tissue Pack
Hand Sanitizer
WARMTH & COOLING
1 Mylar Blanket
8-Hour Hand Warmers
1 Body Warmer
1 Poncho
1 Tubular Bandana – warm up/cool down
FIRST AID & UTILITY
Seatbelt Cutter & Windshield Breaker
46-Piece First Aid Kit
1 Pair Utility Gloves
Duct Tape
2 Dust Masks
4 Extra AAA Batteries
Matches
Stainless Steel Multipurpose Tool
WATERPROOF DRY BAG – No matter the conditions, your gear and supplies stay dry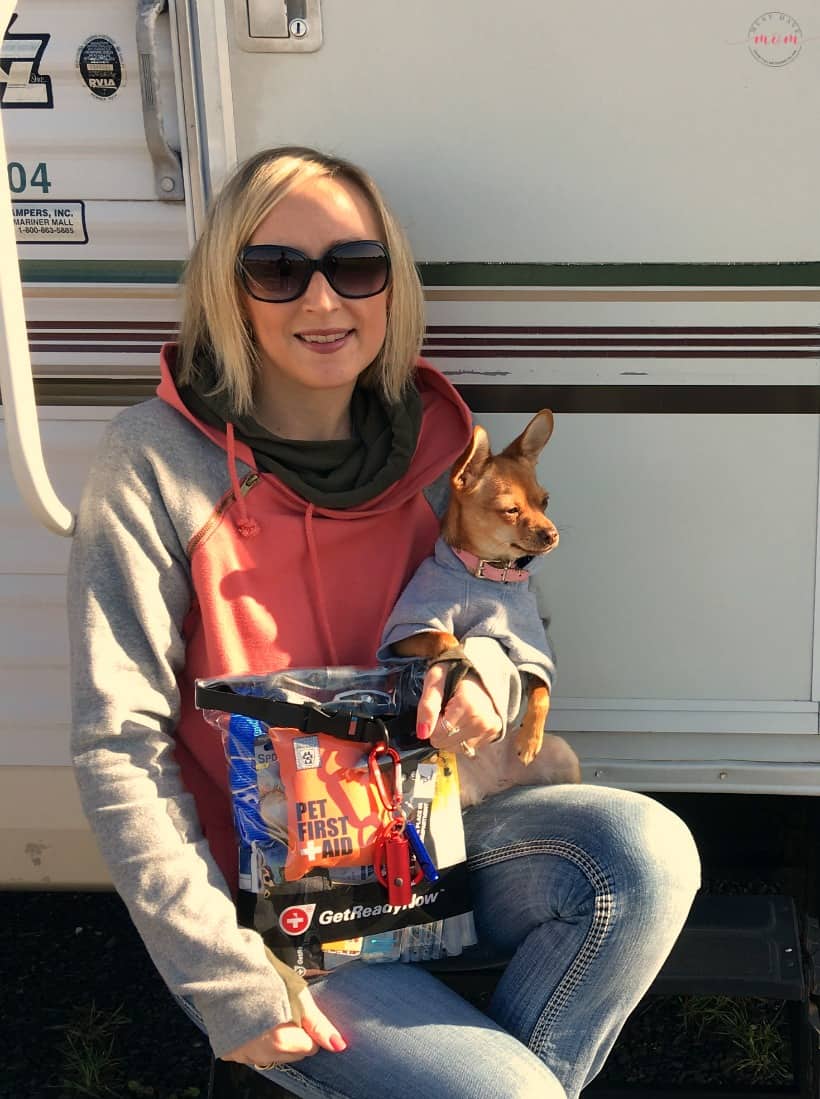 The Get Ready Now's Pups & Peeps Road Combo Pack is unlike any other vehicle accessory or travel and outdoor essential on the market. The packs are waterproof, clear and the gear and supplies are ready to use with batteries installed. When time is of the essence, having everything ready to use makes all the difference! Other vehicle kits provide tools to take care of the car – not yourself and your dog! We make sure we always have one in the car and camper!
Camping Adventures With Dogs
Now that you've prepared ahead of time and packed everything you need and made it to your campground safely, it's time to relax and enjoy the serenity with your dog! We love being on the water when we visit campgrounds and Maddie loves it too! We take her on the boat and she just relaxes!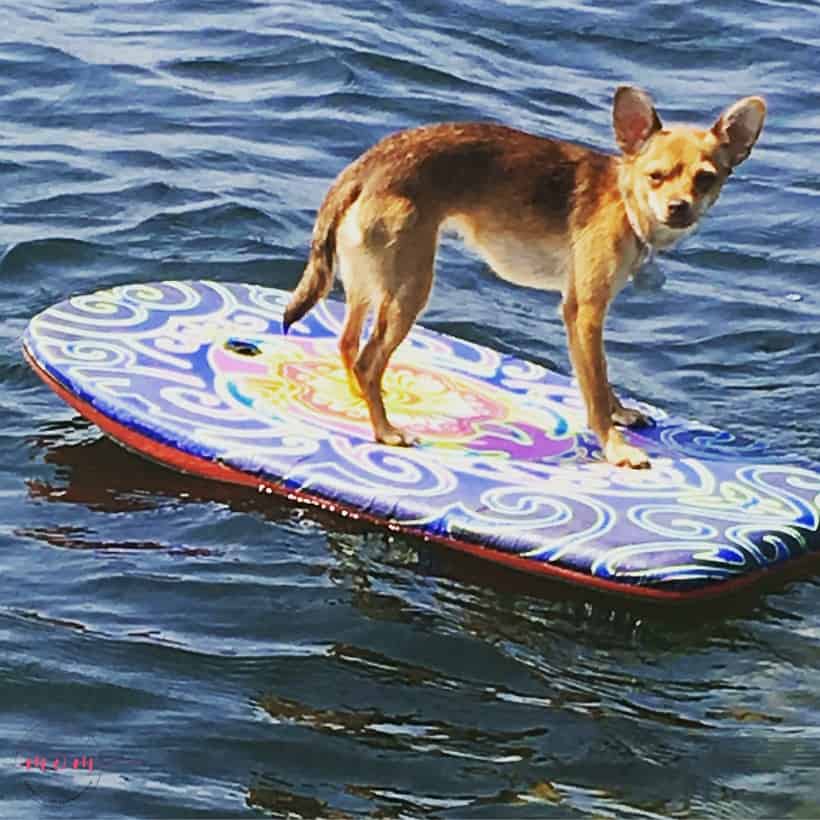 She also likes the water but I think she feels vulnerable swimming around because she much prefers to hang out on the boogie board instead! She'll walk around on it, lay down and chill and just enjoy the water from her spot on the board!
Now you have all the tools necessary to have a successful camping trip with dogs! Be sure to always check to ensure dogs are allowed at the campground you plan on staying at. And remember to always be courteous to other campers by keeping your dog on a leash, curbing their barking and picking up after them. You're ready to make memories now!
Pin these Tips for Camping With Dogs:

Shop Our Favorite Camping With Dogs Products:
Pups & Peeps Road Combo Kit – Emergency Supplies

SALE! Northern Outback Travel Pet Bowl Set

Earth Rated 270-Count Dog Waste Bags, Lavender-Scented Poop Bags, 18 Refill Rolls

PetSafe Nylon Leash, 1

Petnation Indoor/Outdoor Pet Home, 36-Inch, for Pets up to 70 Pounds

Reflective Personalized Dog Collar, Custom Embroidered w/ Pet Name & Phone

Bark Collar Casfuy Upgrade 7 Sensitivity Rechargeable Humane Dog No Bark Collar with Vibration and No Harm Shock

Natural Care Flea and Tick Spray for Dogs and Cats, 14 oz, Made in the USA

Jalousie 14 Pack Puppy Chew Dog Rope Toy Assortment for Small Medium Large Breeds

I was selected for this opportunity as a member of CLEVER and the content and opinions expressed here are all my own.