I showed you my "before" photos of my disastrous closet and now I'm happy to show you my "after" photos! It was a big project to tackle but I was thrilled that Bankers Box sent me a bunch of different sized boxes to organize my closet. I was so impressed by how nice they looked and how easy they were to use. They were easy to assemble and I loved the different sized boxes to create a custom look. Here is my after photo!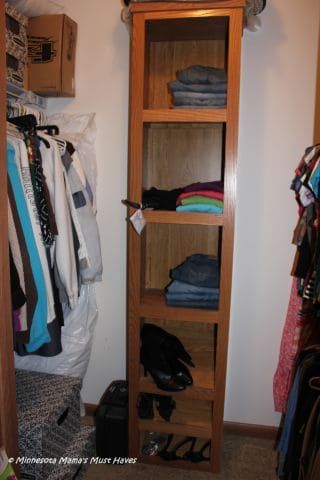 The Bankers Boxes allowed me to easily "hide" my belongings in them so that instead of looking cluttered it now looks clean and organizing while still allowing me to see what is inside through the clear window. They stack nicely allowing me to easily organize my closet.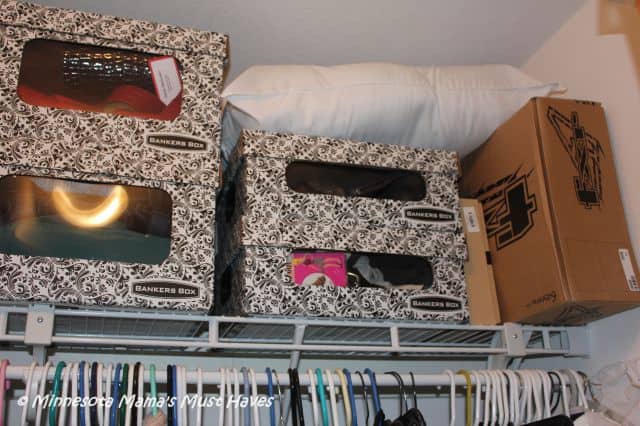 The larger sized boxes were perfect for replacing my overflowing plastic tub. These stack much better and allow me to see the contents through a plastic window on the side. The shorter box (on the bottom) can also be used for under the bed storage.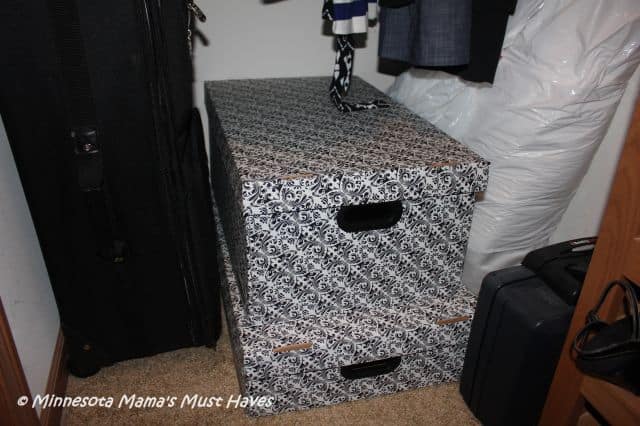 By being able to pack my out of season clothing into the Bankers Boxes I was able to free up my shelf space to organize my current season clothing. It's so nice to have my out of season clothes packed away in the Bankers Boxes so close at hand if I need them.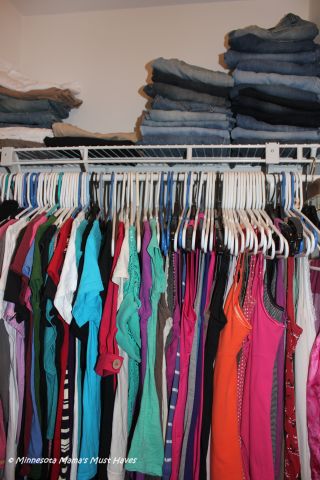 Since my out of season clothes are now tucked away all of my shelves look so much neater!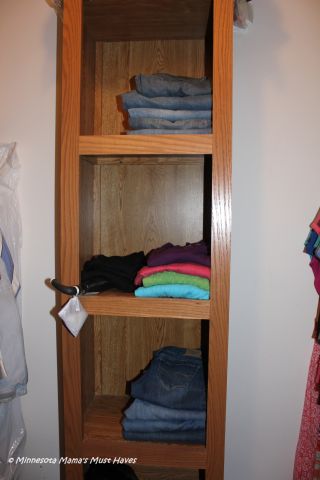 I was so impressed with how easy it was to organize my closet with the Bankers Boxes that I am now going to tackle several other closets in need of organization and use the Bankers Boxes to organize them as well. They look nice and I love the damask black and white print on them. They make it so much easier to find everything! I'm actually, dare I say it, excited to organize the rest of my closets!
Do you have a messy closet? Enter the Fellowes Bankers Box 'Messiest Closet' Contest where you can win a consultation with a professional organizer from the National Association of Professional Organizers and receive up to $500 in free Bankers Box Stackable Storage products! Five second place winners will also win $500 worth of product. Click here for more information!
You can buy Bankers Boxes at a retailer near you or find special pricing on Amazon throughout the month of April! Get a jump start on your Spring cleaning and make it easy on yourself with Bankers Boxes!
*I participated in a campaign on behalf of Mom Central Consulting for Fellowes Bankers Boxes. I received product samples and a promotional item as a thank you for participating.