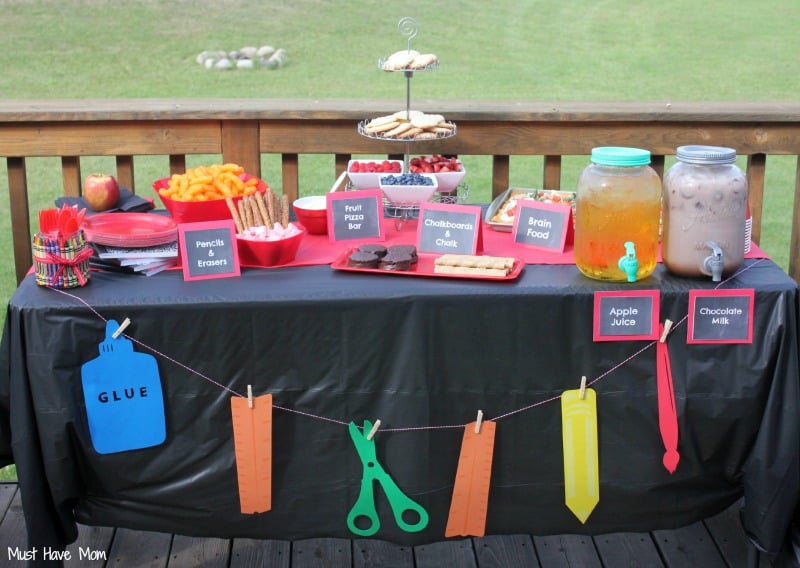 Last week I hosted a fun backyard back to school pizza party with our friends and family. It was so much fun putting together the decorations as back to school time is in full swing. It was the perfect way to end our Summer and enjoy the outdoors before getting back into a normal routine again. I'm going to miss the unscheduled, unstructured days of Summer when I trade them in for an alarm clock and daily charts but part of me craves the structure too. Nevertheless, this was the perfect end of Summer celebration!
I used black and red tablecloths to signify a black chalkboard and red apples. The colors worked well and were a great base for my party decor. I strung a line of red and white bakers twine across the front of the food table and used mini clothespins to hang various school supply decorations from it.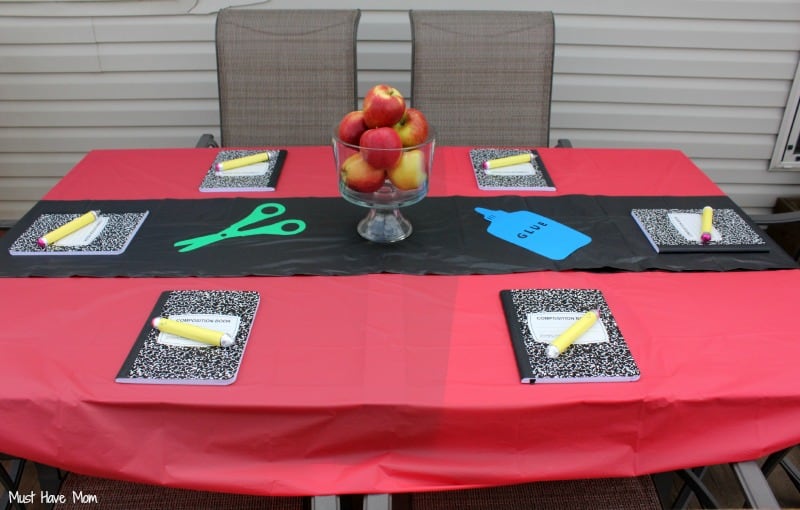 I set the table with composition books at each place setting and topped it with a candy pencil. A bowl of apples was the perfect centerpiece.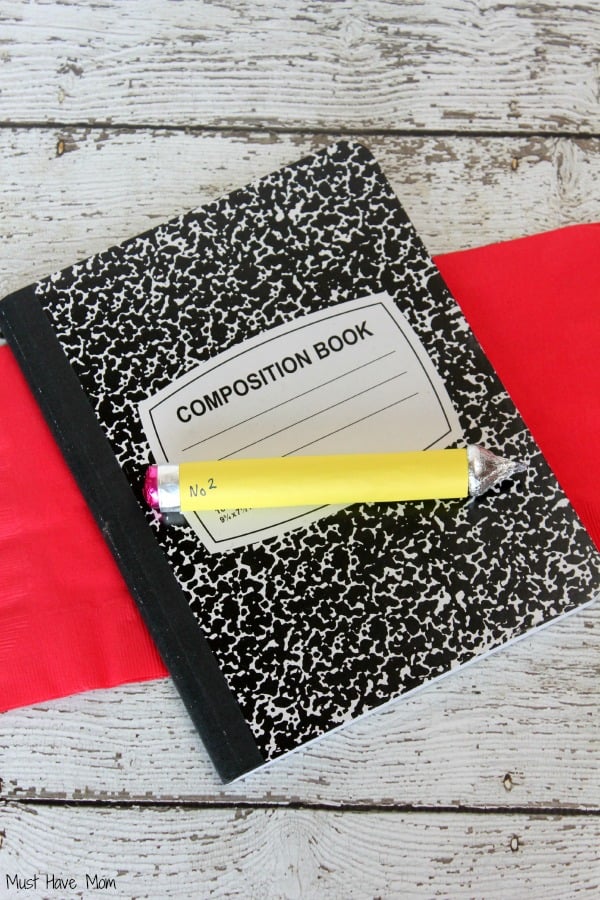 The candy pencils were a huge hit and doubled as party favors. I made them by simply buying fruit flavored Mentos candy and then wrapping them in yellow card stock paper. The pink "eraser" end is simply the candy packaging. I then wrapped foil around the space between the pink foil wrapper and the yellow card stock. Then secure with double stick tape. Hot glue a silver wrapped kiss to the end and write "No 2" with a blue sharpie. They were so quick and easy to make.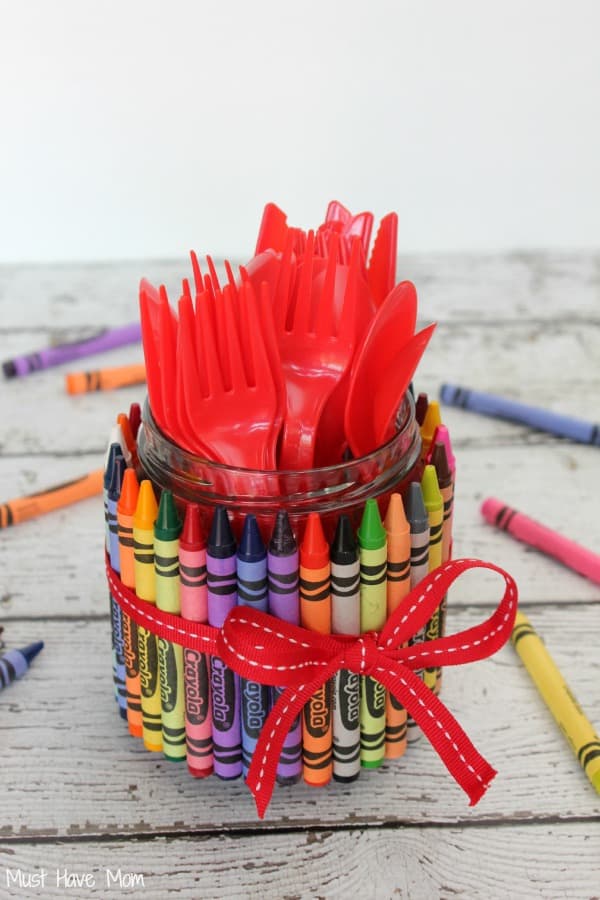 I also whipped up this cute crayon utensil holder for our party table. I used an empty salsa jar and some double stick tape, along with a piece of ribbon. Just use the double stick tape to hold the crayons in place and then secure with a ribbon. It was extremely quick and easy! This would also double as an adorable teacher gift idea!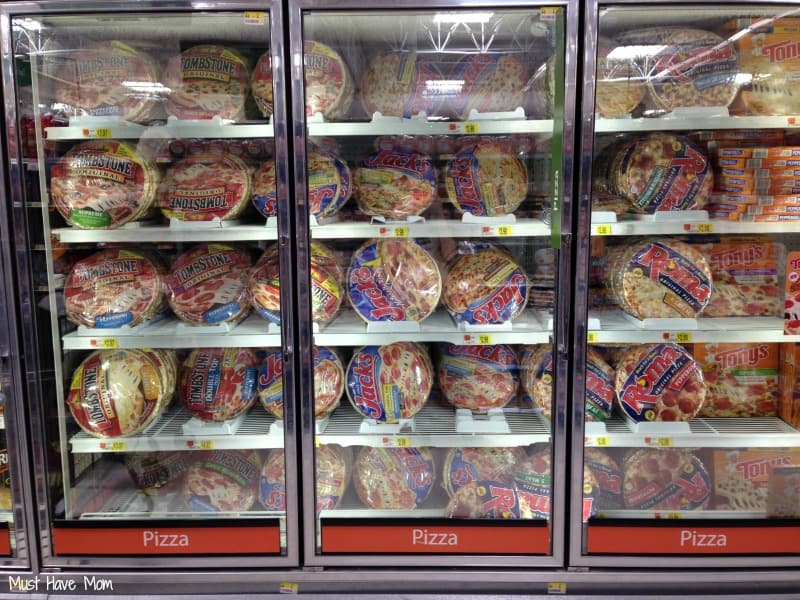 For the food I headed to Walmart and decided on grilling JACK'S Pizzas. We LOVE to grill pizzas because it's quick and easy and they taste amazing. I wanted simple food that could be enjoyed outdoors as we take in the last bit of Summer before school starts. There were lots of varieties to choose from and I picked our favorites, cheese, bacon cheeseburger, pepperoni & sausage. If you need some more party inspiration then check out the Nestle page where they share my fellow blogger's ideas. There are some fabulous finds there!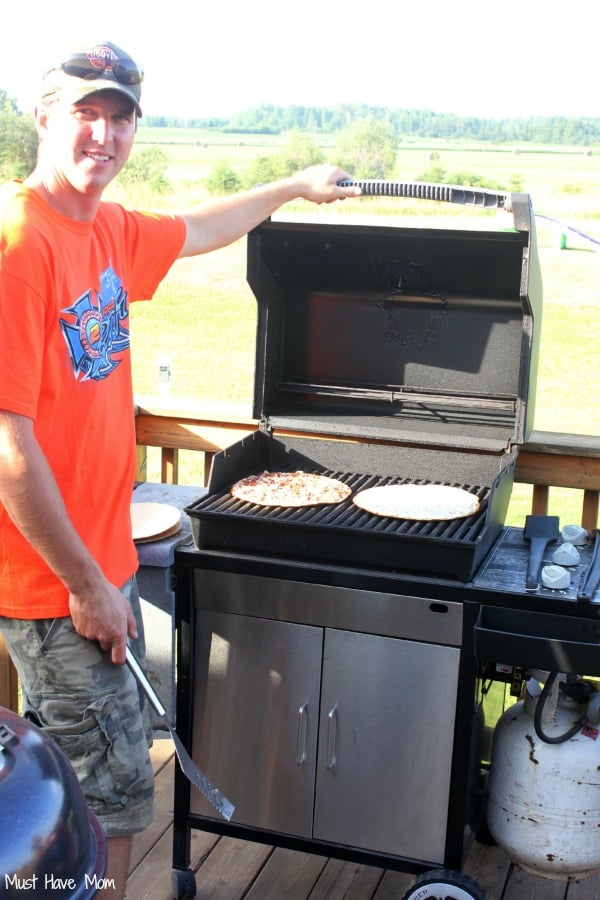 We got a beautiful 80 degree day for our party. My hubby is an old pro when it comes to grilling JACK'S Pizzas so he got to grilling while I put out the rest of the food.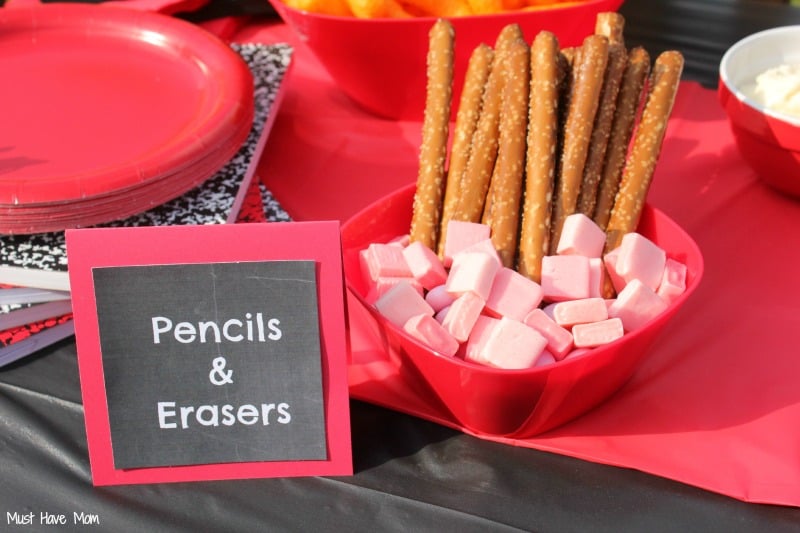 For my party food I had to keep it themed with our back to school party! I served "Pencils & Erasers" i.e. pretzel rods and pink starburst candy. I also stacked our red paper plates on top of a stack of composition books which looked great!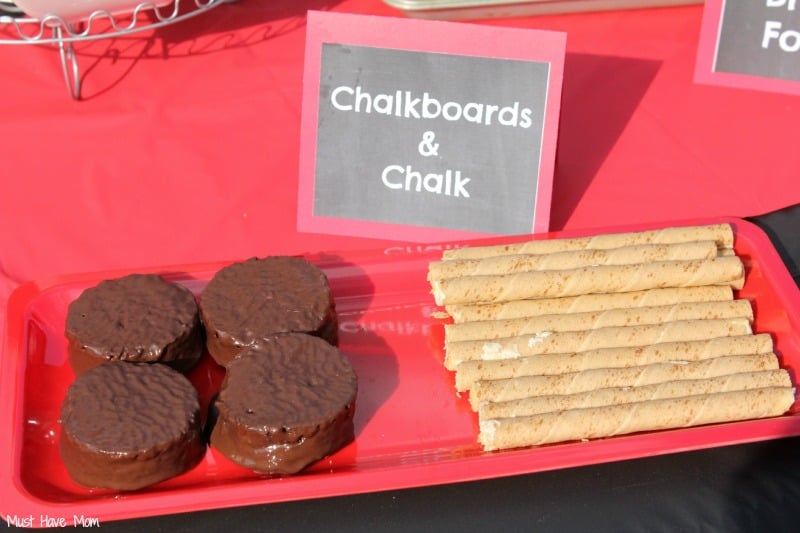 I also had "Chalkboards & Chalk" i.e. chocolate cakes and round cookies.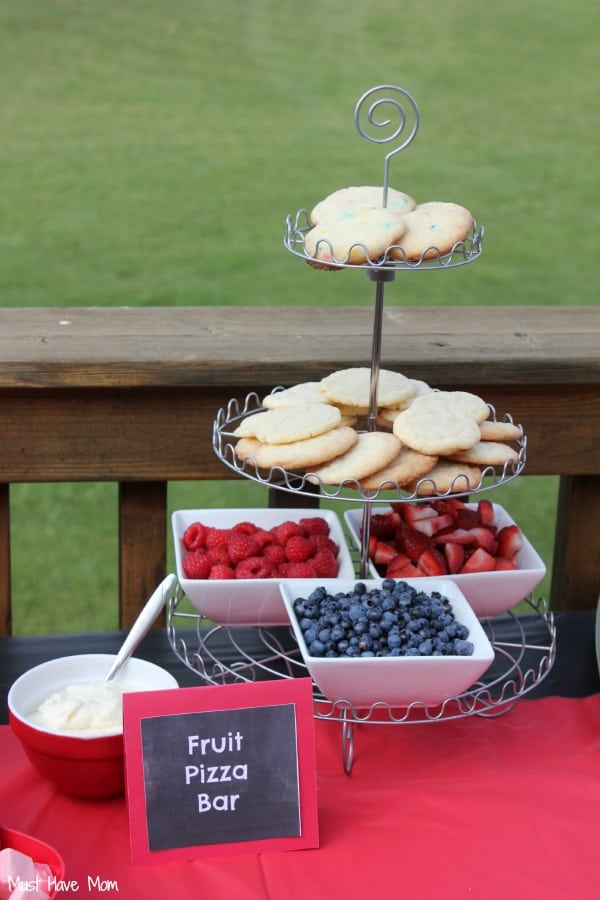 The fruit pizza bar was a huge hit and consisted of sugar cookies, cream cheese spread and fresh fruit. To make the spread combine 1 package of cream cheese with 1/3 cup sugar and 2 tsp vanilla. Mix with a hand mixer for a minute or two until creamy. Then allow guests to create their own mini fruit pizza!
The JACK'S pizzas turned out perfect! The flavor was amazing (so much more flavorful than cooking in an oven!) and our guests were quite surprised with the grilled results.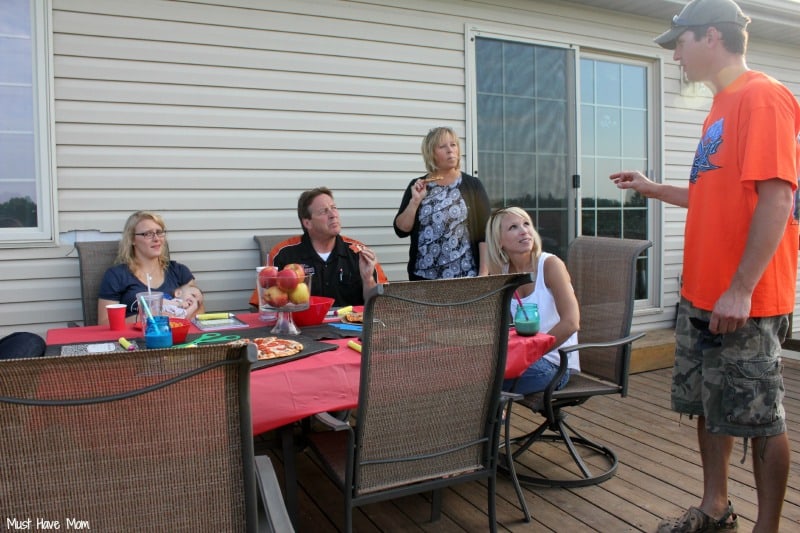 I had to laugh when I snapped this photo. My guests were all so eagerly listening in as my hubby filled them in on how easy it is to grill pizza on a gas grill. He was explaining the process as they all listened so closely! Enjoying a JACK'S pizza on the grill is as easy as 1.) heat your gas grill to 400°F with the lid closed, 2.) place the pizza directly on the center of the grate, and 3.) cook for a total of 12 to 15 minutes – rotating half a turn approximately seven minutes into the cook time. You'll know your JACK'S pizza is ready to enjoy when the cheese is melted and bubbling in the center, the crust is golden brown and the pizza has reached 160°F (checking internal temperature with cooking thermometer).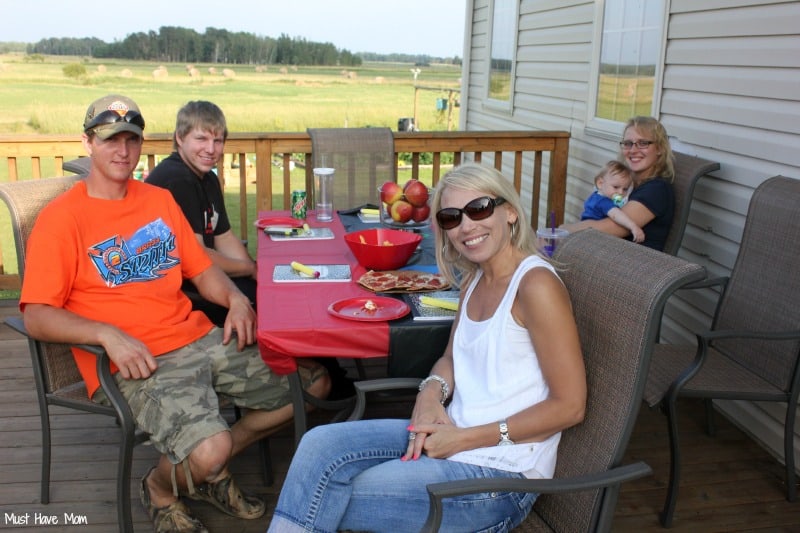 It was so nice to visit with the adults! After being cooped up in my house with my kids all day it's refreshing to have some adult conversation!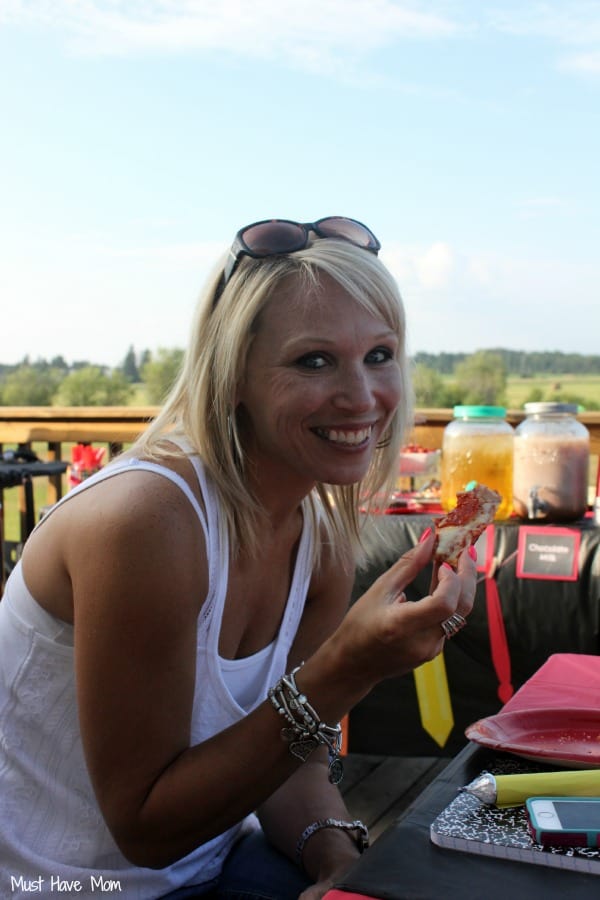 We all enjoyed the tasty pizza my hubby cooked and he just kept the pizzas coming off the grill all evening! This is my beautiful sister 🙂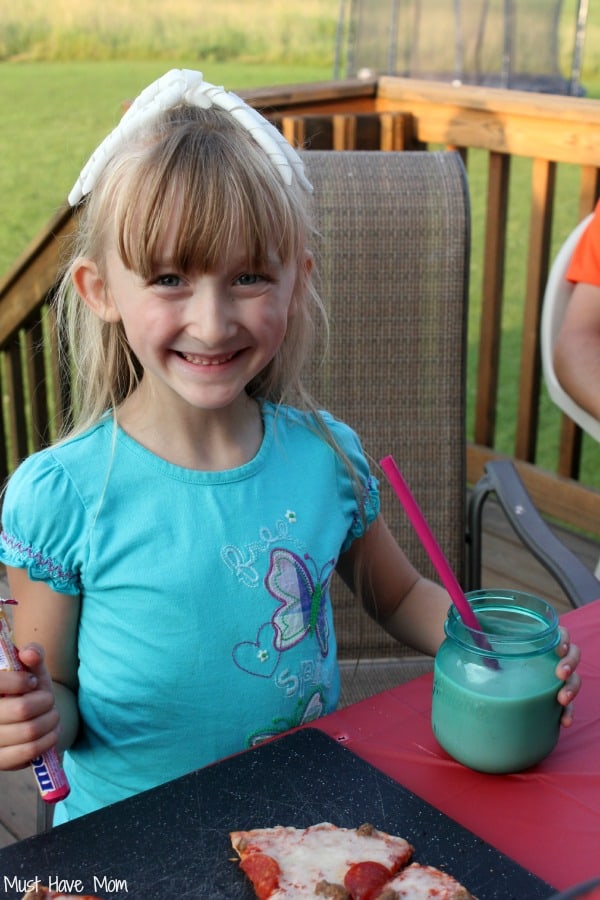 The kids chowed down the pizza and enjoyed their chocolate milk and then ran off to play.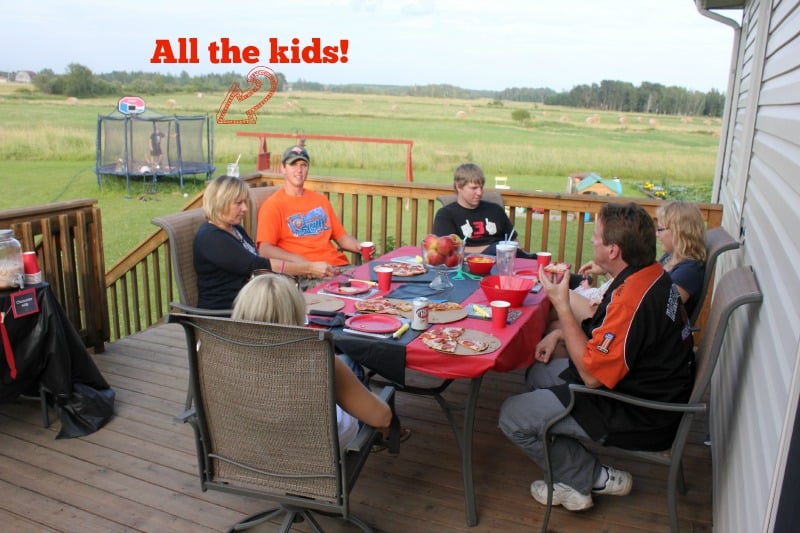 How true is this? The kids can be seen in the background all gathered on the trampoline playing together while the adults sit and enjoy the pizza and conversation. The kids weren't going to be bored with conversation, they had playing to do!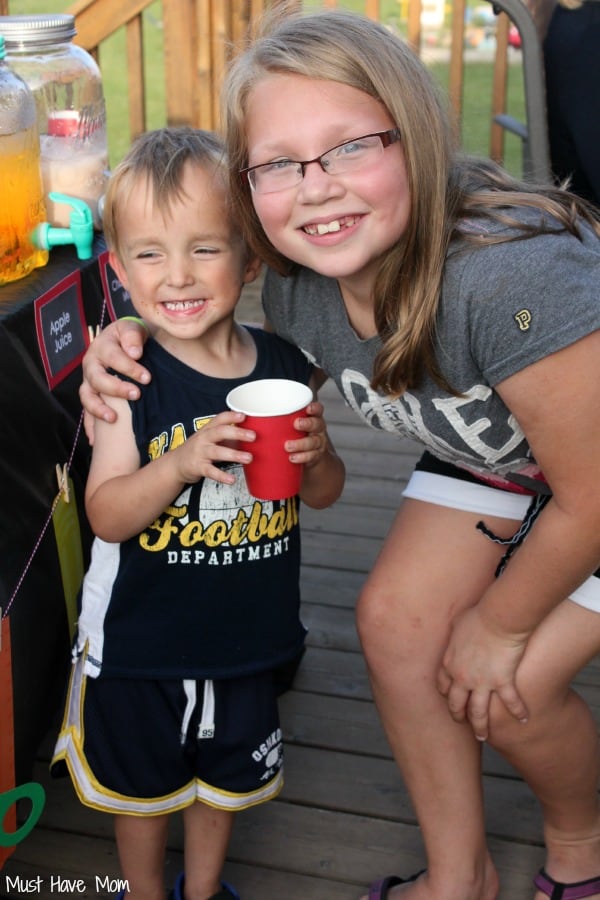 Of course they kept coming back for refreshments too! I served up ice cold NESQUIK Chocolate Milk and JUICY JUICE 100% Apple Juice. Being an 80 degree day, refreshments were one thing that were in high demand! I was interested to see which beverage would go faster on this hot day.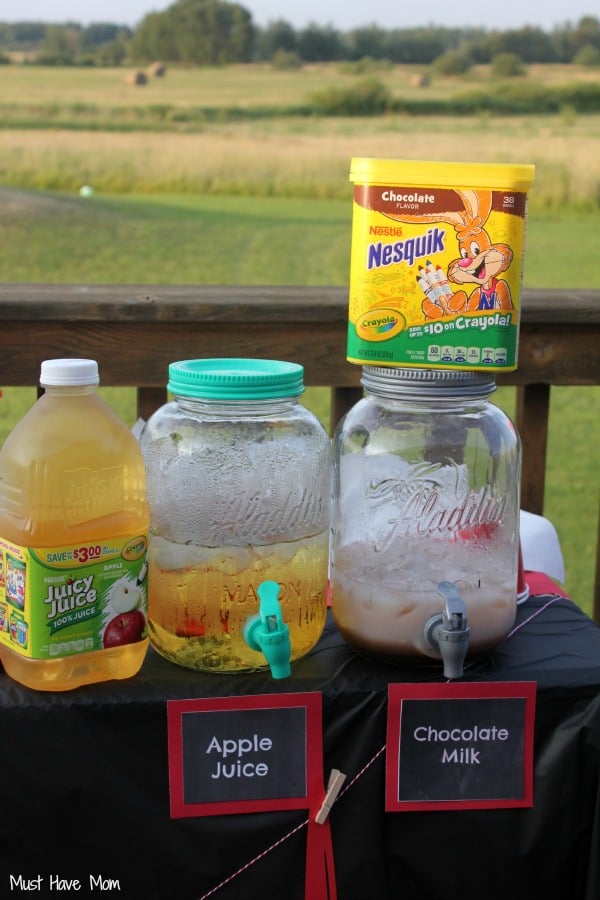 To my surprise the NESQUIK Chocolate Milk won out and beat the JUICY JUICE Apple Juice by a hair. I was surprised to see everyone drinking so much chocolate milk on such a hot day. Adults and kids were both exclaiming that it was so refreshing! Putting the ice in it was the key to keeping it nice and cold. It definitely hit the spot! Next time you have an outdoor gathering remember to put out some iced chocolate milk!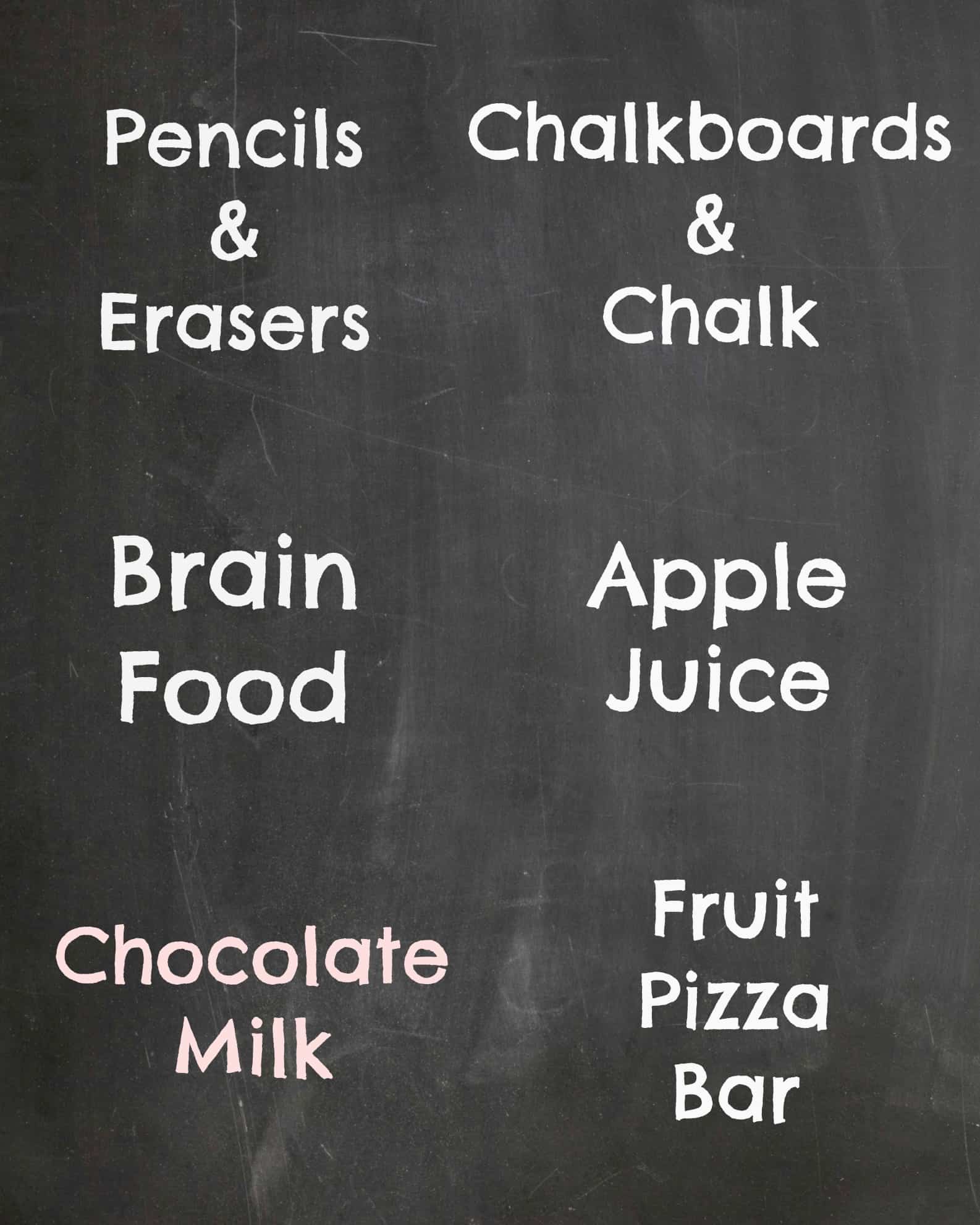 You can host your own back to school party and use my free printable chalkboard food signs! Just click the picture above to enlarge it and print it on an 8 x 10 scale. Then cut out and glue on to heavy, folded card stock to create your own food signs!
Have you ever grilled JACK'S pizza before? Are you ready for back to school?
Save