I cannot believe I am already 18 weeks pregnant! If you follow me on Facebook then you already know that I went to Enlightened 4D Imaging in Bloomington, MN and found out the gender of my baby! I really can't say enough about the staff at Enlightened 4D Imaging. They are extremely nice and welcoming and are the best in the business when it comes to top of the line equipment and training. They have taken good care of me through the years and I have trusted them to reveal the gender of my babies accurately every time! They haven't been wrong! You can check out all of my Enlightened 4D Imaging Reviews from past pregnancies too! Not only can you find out your baby's gender sooner than you will at your doctor's office, but you can also get some amazing 3D/4D images when you are further along.
I have always been extremely impatient when it comes to finding out my baby's gender. I give all of you mamas that wait until the delivery day to learn the gender huge credit because I can't even wait until I'm 20 weeks to find out! I'm always eager to learn at the first possible moment! I visited Enlightened 4D Imaging at just shy of 16 weeks to learn my baby's gender. That's a full month before I would have found out at my doctor's office. In fact, I've known for 2 weeks and my ultrasound with my doctor isn't scheduled for another 3 weeks! That means I found out 5 weeks sooner by visiting Enlightened 4D Imaging! That's a big deal in my book 🙂 Now I can plan and prepare for this baby and I'm not sitting here wondering if it's a boy or a girl! Since we got rid of all our baby stuff thinking we were done having babies, I now need everything for baby again and knowing the gender makes that a lot easier to plan!
Now without keeping you waiting any longer what do you think it is?! Boy or girl?!
It's a……………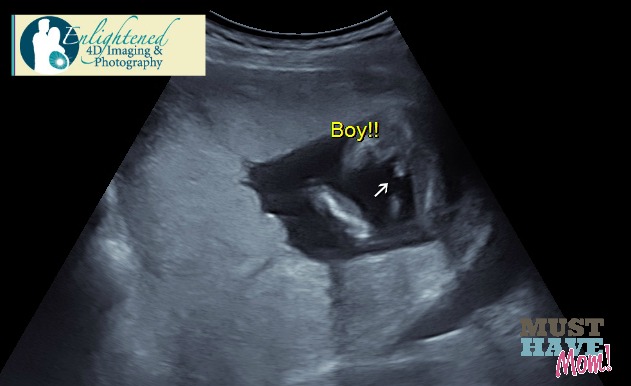 That's right! We are having yet another little baby boy! This will make 3 boys and 1 princess. I'm so excited for baby and I cannot wait until he arrives! The kids are very excited. Danika was desperately hoping for a sister but she has been great about accepting that it's a boy and she will remain the only little princess in this house. Aiden, my 3 year old, has had a tougher time accepting it. He really wanted a baby girl and has a hard time understanding why we are getting a boy. His exact words were, "But I wanted a girl baby. I don't like little bothers". LOL He has since become more accepting but asks if I might have a girl in my belly too? Of course, there is only one little boy in my belly but he is holding out hope! Carson, my 2 year old, just wants to kiss my belly all the time!
After finding out the gender we moved on to some shots of baby. I had to crack up at the shot they caught of his bicep! Check out the guns on this baby! I better watch out because he is a strong little guy already LOL!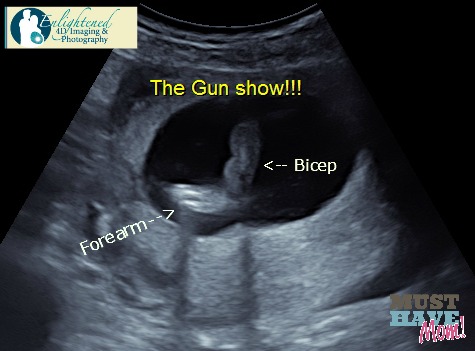 If you are looking for a fantastic ultrasound facility in Minnesota that you can get a 3D ultrasound at or find out gender early then look no further than Enlightened 4D Imaging. I've researched other facilities in the state and have yet to find another that compares. Enlightened 4D has top of the line equipment and training. They are extremely professional and the atmosphere is welcoming and family friendly. It's a family owned and operated business and you can definitely feel the love! They also do newborn photography (and older kids, maternity pics, etc) and we absolutely plan on getting our baby's pictures done there. You can check out their work HERE. It's amazing!
Like Enlightened 4D Imaging on Facebook to get the latest news and catch pics of their adorable newborn shots!
Do you find out the gender of your baby or do you wait until delivery day?