When I was little I desperately wanted an American Girl doll. I read all the books, got the catalog in the mail and played with my friend's American Girl dolls. I never got an American Girl doll and now that I have my own little girl I hope to pass down the fond memories I had of the iconic American Girl dolls and hopefully pass on an appreciation for how special they are. Danika is four and loves dolls. I thought it would be perfect to start her out with the American Girl Bitty Baby doll and introduce her to the line of American Girl dolls.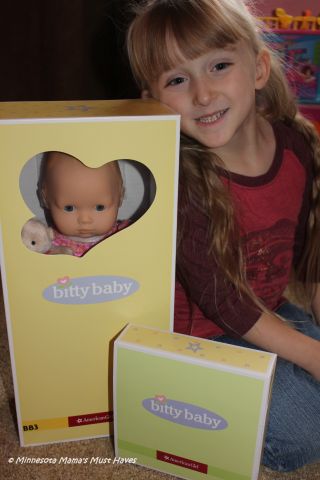 She was so excited to get her bitty baby doll! It was so much fun giving it to her and explaining how special the doll was. She was sad that I didn't get one as a child and said she hoped I would get one some day 🙂 It really made a point as to how special the doll is and I loved her appreciation for it at such a young age.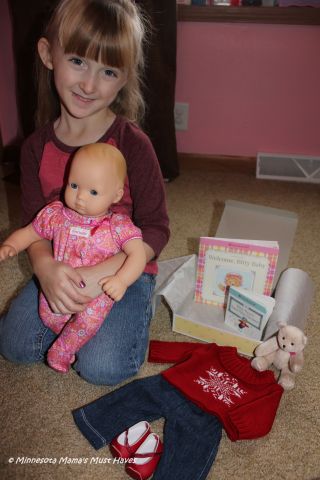 With each American Girl bitty baby doll you can choose the skin color, hair color and eye color. I chose the light skin, blond hair and blue eyes to match Danika most closely. The bitty baby doll is 15 inches tall and the eyes really open and close which Danika loved! She kept rocking her baby to sleep. She has a cuddly cloth body, and her head and limbs are made of smooth vinyl. She comes with:
A pink paisley sleeper with puffed sleeves and a satin bow
A soft cloth diaper
Bitty Bear®, a 5-inch plush bear—Bitty Baby's own special teddy toy to cuddle
The Welcome, Bitty Baby memory book for girls
Danika also got the adorable Winter Wishes outfit which comes with jeans, a red snowflake sweater and adorable little red flats along with Bitty Bear's Snowflake Dreams book. Danika had a blast changing her outfits. Extra outfits for the doll are a must have as part of being a mommy to the doll is changing her outfits!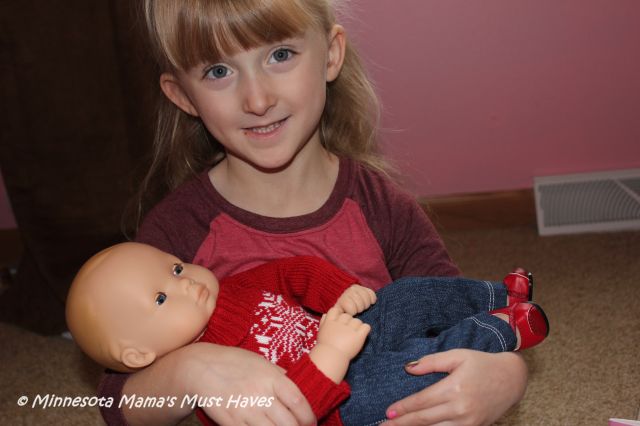 They have the most adorable little accessories for the bitty baby dolls. The sippy and snack cup and little toys are just beyond adorable! This is a great idea to give the doll as a gift to your child and then ask relatives to buy the accessories. It's a great way to build your daughter's set and if your relatives are anything like mine they want a gift idea list! Make it easy for them!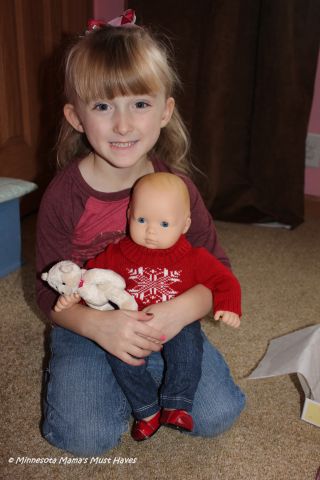 You can buy the American Girl Bitty Baby Doll which is recommended for ages 3+, on their site for $50. This is a perfect Christmas gift idea and will be well loved for years to come! It's a great way to introduce your little girl to American Girl and then move on to the 18" dolls once they get older.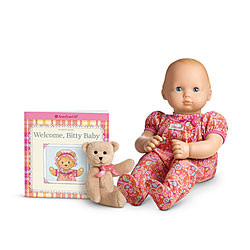 American Girl is giving one lucky reader a Bitty Baby Doll! Enter my Rafflecopter giveaway below for your chance to win! You can also enter Jennifer's $60 Umi Gift Card giveaway for 2 bonus entries into MY giveaway! Good luck!
*Site Disclosure: Products providing by company or representing PR firm for review purposes only. No compensation was received in exchange for this post. My opinions are my own and reflect my personal experience with the product.