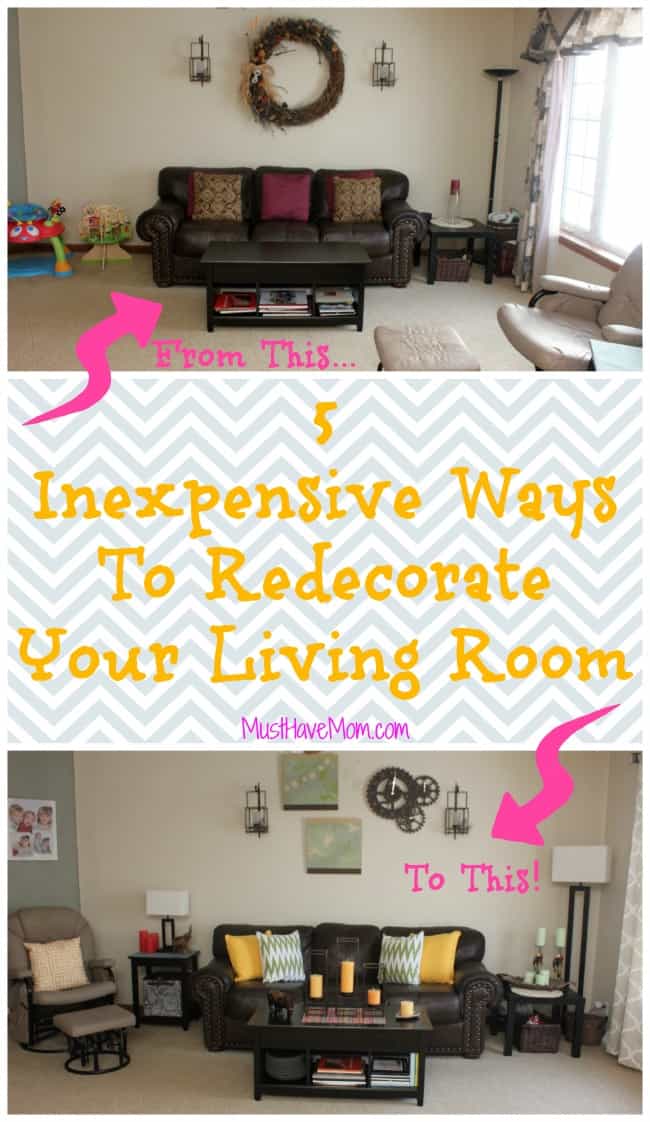 My living room was in need of a makeover. It was drab and feeling outdated and it was so uninspiring. I wanted a warm, cozy living room with bright pops of color. As our long, Minnesota Winter approaches and I'll be spending lots of time indoors, I wanted a place that was cheery and bright to keep my spirits high all Winter long. A bit of Spring in the Winter if you will. I didn't have a big budget to do it, nor did I have the desire to paint it when I couldn't open the windows and air it out (due to the extremely cold temps here). I needed an inexpensive living room makeover and I got one! I am loving the transformation and it feels like a totally new room. Here are my 5 inexpensive ways to decorate your living room on a budget.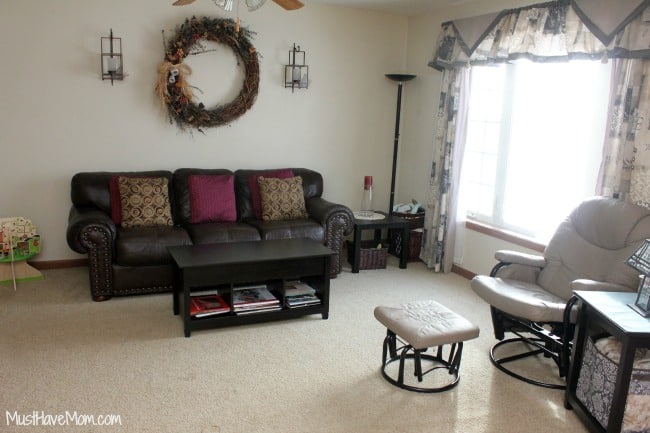 While my living room wasn't too terrible, it was feeling really outdated and drab. Here is the before picture!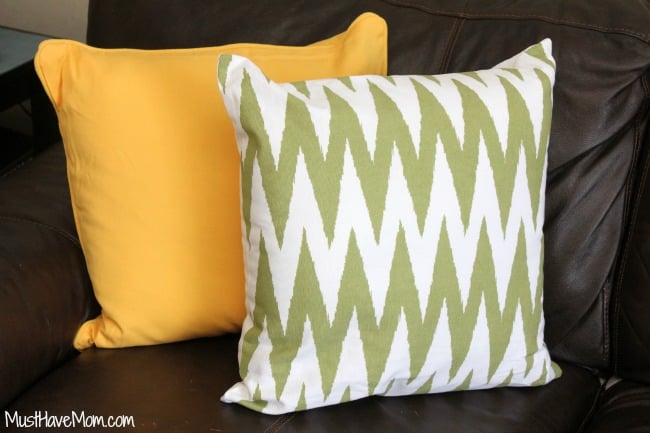 To start my living room makeover I needed some inspiration. I knew I wanted bright colors and bold patterns, but I wanted to keep my current furniture so that I could accomplish my redecorating on a budget. I scoured the selection of throw pillows at Wayfair and landed on these yellow and green pillows that served as the beginning of my makeover. At just $34 for a set of 2 Blazing Needles throw pillows, you can't get a better deal! The green chevron pillows were a little more expensive at $20 each, but still a great deal for throw pillows.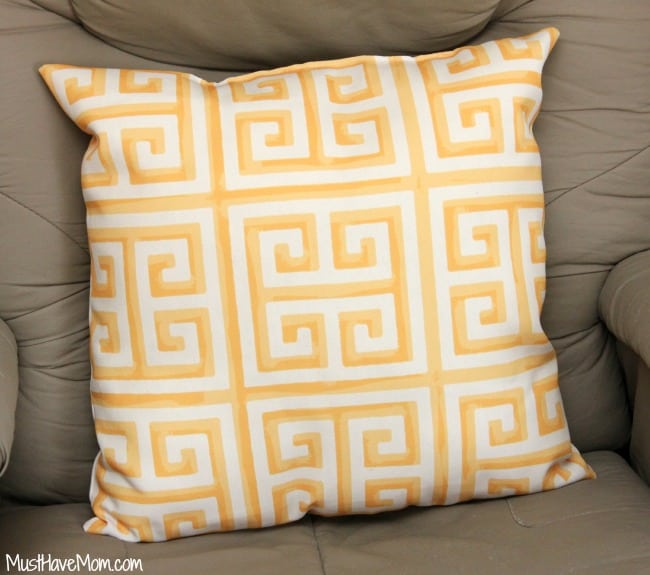 To add another pattern into the mix I included this Thumbprintz Greek Key II Printed Pillow. I loved the bold design which added some flair to my otherwise boring chair. At $22 this one was also a good deal. Pillows aren't cheap so I was thrilled to find these really good quality pillows at such an affordable price. Once I had my inspiration I ran with it!
1.) Add new throw pillows in bold colors and patterns to give your room a facelift!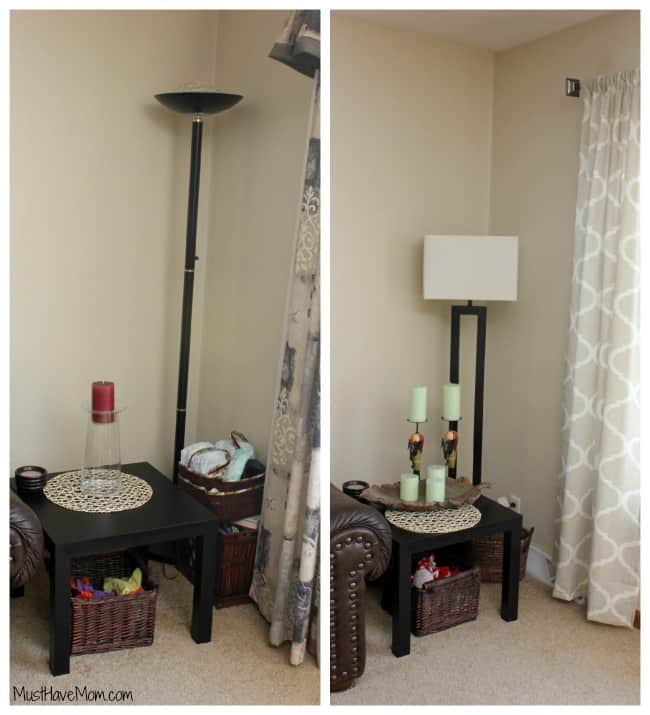 2.) Update outdated lamps and light fixtures. This old floor lamp really dated my living room. It was black and gold and screamed 80's! I found a more modern floor lamp to take it's place. It has a softer glow so the room feels really cozy at night with the lamp on.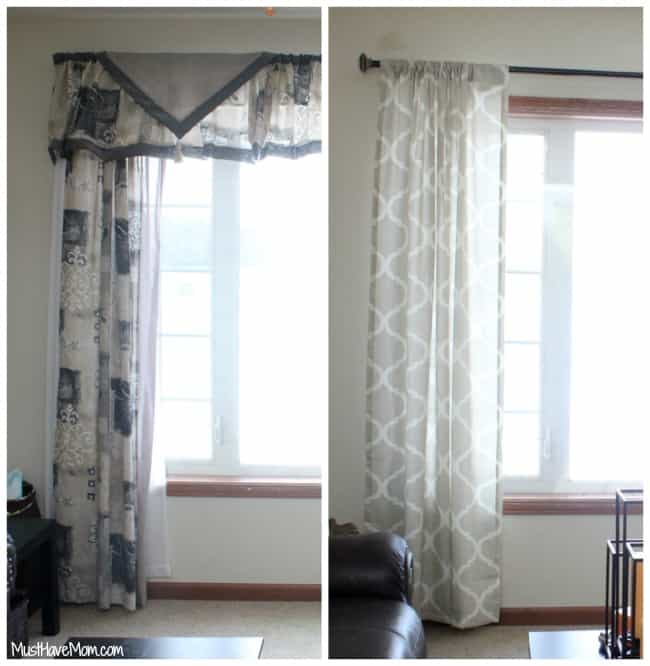 3.) Update curtains and window treatments. The curtains on the left are the set that came with the house when we bought it. I hated them and they were so outdated. I found new curtain panels that were light and airy and included a bold pattern to bring dimension to the room. I love the transformation it created! I also updated the curtain rod so it now has bold square ends, instead of the cheap white metal curtain rod that was there before. Curtains can change the whole look of a room. Buy curtains that hang to the floor to give the look of a taller window and make the room seem larger.
4.) Pull bold colors into your decor. I used the inspiration from my bold colored throw pillows to choose my decor, which is also bold. By keeping your furniture a neutral color and using bold decor items to decorate, you can easily change the look of your room. I love how the yellow throw pillows and yellow candles pull the room together and create a look.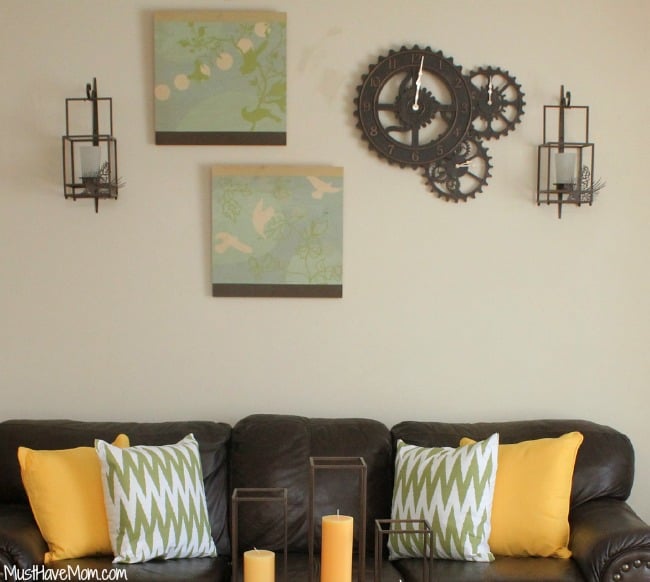 5.) Change your wall hangings to create a dynamic look. I got rid of my old wreath that was hanging above the couch and in it's place I hung two staggered pictures printed on wood and an awesome clock made from gears. It created a new look, drew some color into the wall and completed the look of my room.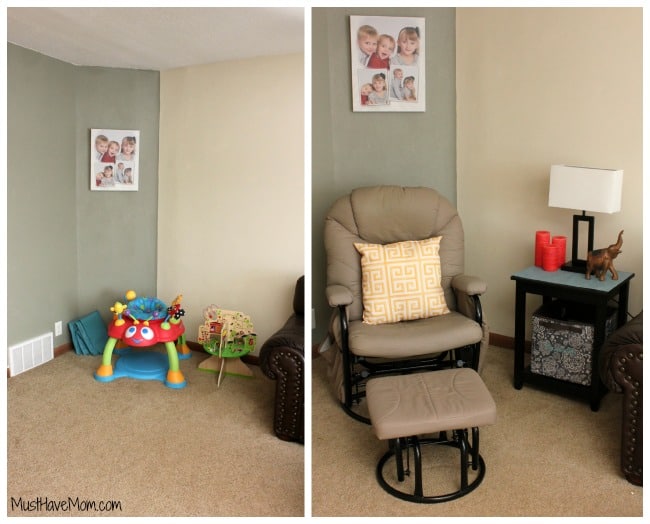 Make use of unused space too. We had a pretty empty corner that was occupied by Brady's toys. I used that space to create a cozy corner where I could nurse Brady or read a book. In the basket under the side table I have a cozy blanket hidden away that just begs to be curled up in with a good book in hand!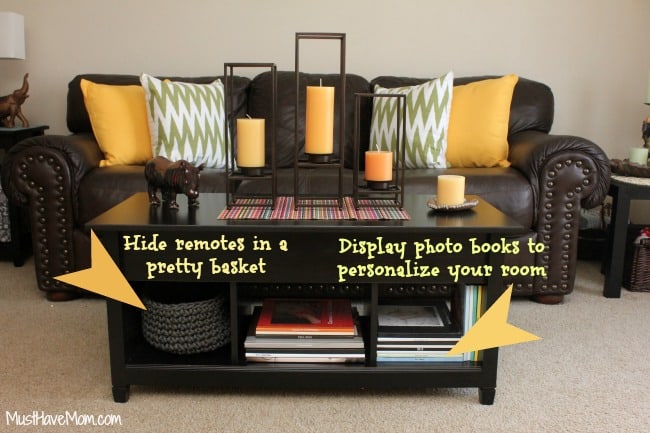 Don't forget to make your room personal. A home begs to be lived in and your room shouldn't just be a show piece. It should be functional and homey, while looking amazing. Under my coffee table I've hidden our remotes in a beautiful braided basket and I've tucked our family photo books into the cubby spaces so they can easily be pulled out and looked through.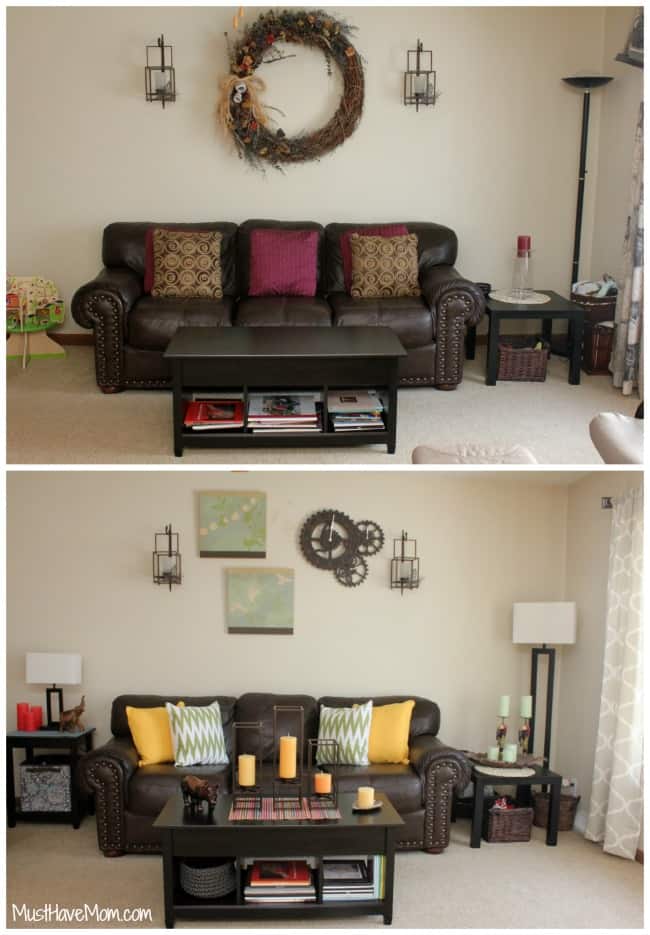 The before and after look is quite a difference considering I only changed the decor items and not any of the furniture. This entire living room makeover was very affordable and while it didn't cost a lot of money, it made a huge difference in the overall look of the room!
If you aren't looking to do an entire room makeover, but you would like a holiday look for your room, then check out the great selection of holiday decor at Wayfair! Whether you are looking for a bright new living room like I was, or a cozy Winter haven, Wayfair has everything you need!
~*~
As an exclusive offer for my readers I've been given a promo code for 15% off ANY Pillow, Pouf or Throw! This is a rare offer from Wayfair! Use the code: WFPTP15 through November 24th!
~*~
Does your living room need something new?