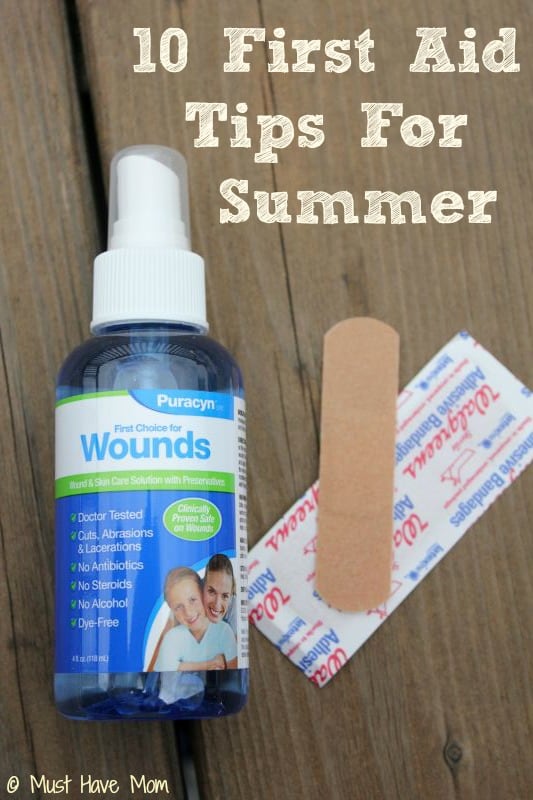 With Summer comes busy schedules, on the go lifestyles and being outdoors often. Accidents go hand in hand with those activities so it's best to be prepared ahead of time so you know what to do when they happen. Any mom knows that kids will inevitably get cuts and bruises this Summer so let's be prepared for what's to come! Here are 10 First Aid Tips for Summer that you need to know:
Be prepared! Always carry a First Aid kit with you in your car, boat or even in your diaper bag. See below for what to include in your First Aid kit!
Small cuts, scrapes and lacerations usually don't require a visit to the emergency room, but proper care is still necessary to help prevent infections and promote healing. Puracyn® OTC Wound & Skin Care is a spray alternative to the otherwise messy job of cleaning the wound area — the new "first step" in first aid for cuts, abrasions and lacerations–allowing easy wound cleansing without the need for running water, unnecessary rubbing of the wound, or messy and sometimes irritating ointments.
Stay hydrated and know the signs of heat stroke. The first sign is cramping in the legs. If that occurs, cool off and drink fluid until it goes away. Cramping and light sweating that go untreated lead to heavier sweating, feeling lightheaded and nauseous. If untreated it can lead to heat stroke in which your body stops sweating, and can no longer cool itself. This puts you at higher risk for a stroke. If a person is displaying signs of heat stroke you should pack them in ice (over the groin, armpits, neck) or get them in cool water to lower their body temperature more quickly.
Practice water safety and always have an adult supervising water activities. Make children always wear a life jacket around the water and be sure to do head counts if there are several children swimming. If a child is unaccounted for get everyone out of the water until you can account for that child. Get trained in CPR in the event of a drowning it could save a life.
If you are stung by a bee, wasp or hornet the sting can be quite painful. Use a credit card or a blunt-edge object to try to scrape out the stinger. Immediately after being stung make a mixture of mud up and apply to the bite or sting. This will help draw out the venom and soothe the sting. Ice can help with the pain.
If you are in a wooded area be sure to wear clothing that covers your skin to help prevent getting ticks. After leaving the area check yourself for ticks and remove any you find. Be sure to get the head out as well if they have attached to you. Lyme disease is caused by the bite of a tick infected with the bacteria that cause the disease. A few days to weeks after the tick bite, a "bull's-eye" rash may appear with fever, headache, and muscle or joint pain, or a flu-like illness. It is very important to seek treatment if you experience any of these symptoms.
Prevent sunburn and skin cancer by applying sunscreen often. If you've been in the water be sure to re-apply it. Wear a hat to minimize your exposure and be sure to always wear sunglasses as well. If you are sunburned apply aloe or lavender essential oil to the effected area to help soothe the burn.
If someone is bleeding the first step is to stop the bleeding. If severe the second step is to call 911 but do so as you are applying pressure to the wound. If you have gauze or towels then use them to apply direct pressure to the wound. If the blood is soaking through the bandages then apply more layers on TOP. Do NOT remove the bloodied bandages from the wound and apply new ones. In order for the blood to clot and stop the bleeding it is vital that you leave the blood soaked bandages in place.
Broken bones can be scary. Do not attempt to straighten an extremity that has been broken. Leave it as is and stabilize it using padding to keep it from moving. Apply ice and seek medical attention.
Avoid bug bites by wearing bug spray. Getting covered in bug bites is not fun and the itching can lead to infection. Be sure to wear bug spray and long sleeves/pants if the bugs are really bad. Apply itch relief or purification essential oil to bites to prevent scratching.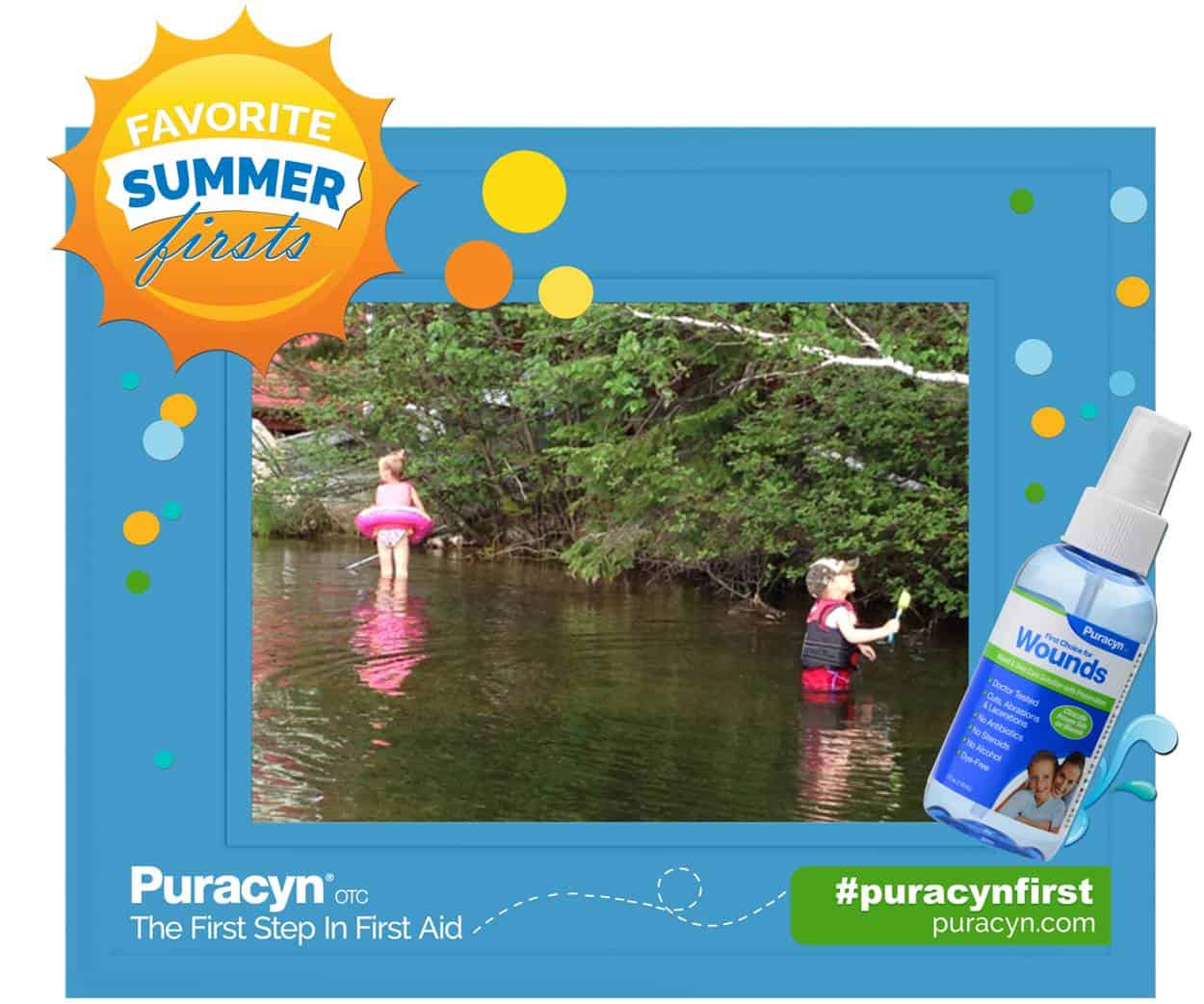 My favorite "firsts" moment of the Summer! We finally got to get in the lake at our cabin. The kids loved it and spent hours in the water catching fish with their nets and playing in the sand.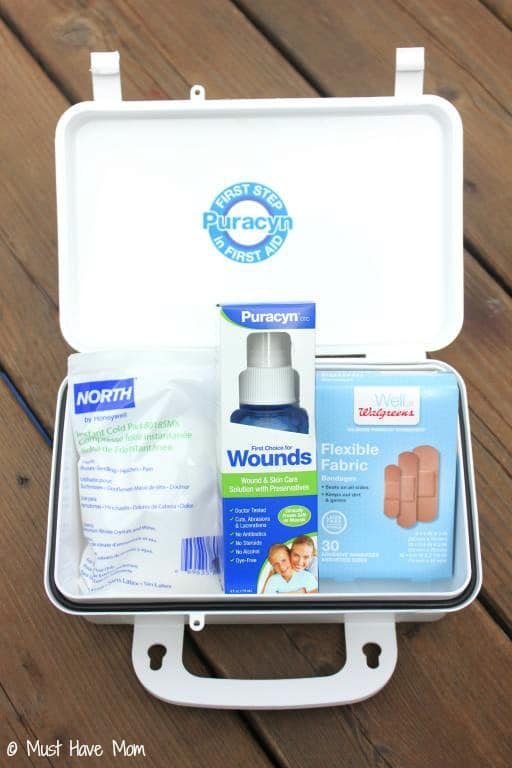 Be sure to carry a first aid kit armed with instant ice packs, gauze, scissors, tweezers, fabric tape, Puracyn Wound and Skin Care, and bandages. Puracyn® OTC Wound & Skin Care is available in the first aid aisle at Meijer, Rite Aid, Walgreens and other retailers nationwide in 4 oz. bottles, for a suggested retail price of $14.99. Carry a cell phone in case of emergencies. If anyone traveling with you has life threatening allergies be sure to carry their Epi-Pen as well.
Puracyn wants to help you celebrate a Summer of firsts with their Puracyn®'s Favorite Summer Firsts Giveaway! Now through 7/24/14 you can enter to win one of four summer themed prize packages to help you have fun at the beach, on a camping trip, at a backyard BBQ and more! Winners will also receive a first aid kit including Puracyn® OTC Wound & Skin Care product. One winner will be chosen and announced on Facebook at around 12:30 P.M. EST each week on Thursday, July 3rd, 10th, 17th & 24th! Enter the Puracyn® Favorite Summer Firsts Giveaway here!
What was your favorite Summer "firsts" moment? A delicious Summer food? A trip to the beach? I'd love to hear!
This is a product-provided, sponsored conversation that contains affiliate links. I received one 4 oz. spray bottle of Puracyn® OTC Wound & Skin Care and a branded first aid kit. All opinions, text and experiences are my own.